The Carceral Archipelago project faces enormous challenges in writing the history of punishment as global history. Our research ranges across almost five centuries, from Portugal's first use of convicts in North Africa in 1415 to the closure of Stalin's gulags in the 1960s. As readers of this blog will know, we are working on the archives of multiple localities; from military fortifications in Spanish America to hulks in Gibraltar; from post-Emancipation societies in the Caribbean to Japan's northern island frontiers; from the far reaches of the Russian Far East to Australia's penal colonies. Our goal is to map and to enumerate the global extent of convict transportation for the very first time; to find out when and why people were transported to particular locations; to specify the kind of work that they did when they got there; to explore their relationships with Indigenous peoples, free settlers and other kinds of coerced labour; and to understand how they were managed and punished; and how they made sense of their experience. We are interested also in the legacies of their transportation – social, economic and demographic – and in ways that penal colonies are remembered and represented in various heritage sites today.
The form and function of convict transportation and penal colonies was incredibly diverse, and both were tied to configurations of punishment and labour peculiar to each context. This drove the choice of transportation over other kinds of punishment like execution or imprisonment, as well as the kind of work that convicts were expected to do. Multiple stakeholders – including government treasuries, prison governors, shipping agents, penal reformers, private contractors, the admiralty, colonial administrators and free settlers – produced a kind of politics of convict location. Also important were local understandings of the meaning of gender, race and climate, and the kind of punishment and work that could be inflicted on and tolerated by women, colonized 'Others', and Indigenous people. Given the diversity of convict origin and location, including through "internal" transportation (e.g. from Japanese Honshu to Hokkaido), overseas transportation (e.g. from peninsular Spain to Latin America), or between colonies (e.g. from the British Caribbean to the Australian colonies), simple global comparisons such as crime-for-which-transported, length of sentence, escape or punishment rates, and the gendered and raced dimensions of convict mobility and work, do not appear especially promising. Local narratives and analyses hold obvious interest for historians of particular national or imperial histories. However, a global history of penal colonies cannot be, solely, either an aggregation of multiple contexts, or a straightforward comparison between them.
As we work on our global case studies, we are using an approach that we call the politics of comparison. We are interested in foregrounding in our analysis not our comparative perspective, but contemporary debates and circulations in people and practices. Each of our contexts was embedded in global conversations relating to convict transportation and penal colonies; including on how convicts were best managed and incentivised, and how they should be punished and reformed. In a previous blog, Towards an Evolutionary History of Penological Information in Modern Japan, Takashi Miyamoto wrote of a high-profile Japanese tour to the former British East India Company penal settlement in Singapore. There were many other such investigations and visits, instigated by the French, Spanish and Germans. It is important to note here that convicts too were carriers of knowledge; and in some instances including in East India Company South Asia were able to employ agency in securing favoured penal destinations.
Here, I give three specific examples of such circulations, from my work on the British Empire: both around and beyond metropole and colonies. First is the wide dissemination of John Thomas Bigge's critical 1823 reports on what he saw as the lax penal colony of New South Wales. The Bigge reports were influential in directing metropolitan and Australian policy to combine and render transportation 'an object of real terror.' They were influential also in Britain's penal settlements in South East Asia, to which Indian convicts were transported, where they specifically informed the subsequent development of penal regulations for Bengal convicts in Penang in the 1820s. My second example is the relocation of naval lieutenant George Bott, superintendent of convicts in the notorious Norfolk Island 1843-7. When Norfolk Island closed in 1847, and after giving evidence to the anti-transportation Molesworth Commission, he was appointed stipendiary magistrate of the penal settlement of Mazaruni in British Guiana. Mazaruni had been the subject of a commission of enquiry following the death of several convicts under a harsh and cruel regime, after which the British medical superintendent had fled to avoid prosecution. Governor Henry Barkly noted that as Bott 'has had much experience in the management of convicts in Norfolk Island, he will be found well qualified to introduce an improved system of management into the Penal Settlement of this Colony.' Indeed, Bott quickly set about framing a code of regulations. Similar points about the mobility of penal regulations could be drawn from the relocation of Van Diemonian (Tasmanian) private secretary to the governor, John Montagu, to the Cape Colony, again in the 1840s. There he established convict road labour gangs, modelled on those of Australia. Within a new system of 'scales' of punishment, paralleling the penal stations of Australia such as Port Arthur and Macquarie Harbour, Robben Island was abolished as an offshore prison, and reserved for the transfer of the worst offenders.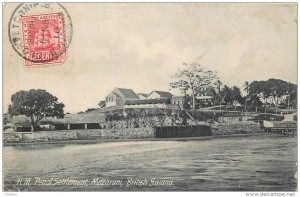 Her Majesty's Penal Settlement, Mazaruni (British Guiana)
Two other British penal reformers were especially prominent in this nineteenth-century circulation of ideas, and their reach extended beyond the British Empire. The first was Captain Alexander Maconochie, another former superintendent of the penal colony of Norfolk Island, and the second was Director of Irish Convict Prisons, Walter Crofton. Maconochie's mark system was widely admired by penal thinkers all over the world, who lauded its replacement of fixed sentences with indeterminate ones, with privileges ('marks') and the prospect of release gained or lost on the basis of the completion of tasks and good conduct. Maconochie had been strongly influenced by the work of Colonel Manuel Montesinos, Governor of Valencia prison; and by Frédéric-Auguste Demetz's application of productive (not unproductive, demoralising penal) labour in the French juvenile agricultural colony of Mettray. Within the British Empire, I have found references to the proposed trial of the mark system in the British and Irish convict hulks of Bermuda in the 1840s; in the Punjab in the 1860s; and in Mauritius a decade later. It was used in the penal settlement in British Guiana, Mazaruni, and in the Indian penal settlement of Labuan (Borneo). Andaman 'tokens' were minted, as incentives to good conduct, when the mark system was introduced in 1861. Marks were later extended to the cellular jail (est. 1906), which was intended as an initially severe penal stage for newly transported convicts.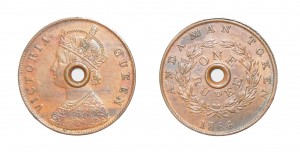 Andaman Tokens
Walter Crofton developed Maconochie's system of penal progression through the establishment of four penal 'stages': cellular imprisonment, with rigorous rations and hard work; separation at night and congregated labour by day; intermediate prison, or probation, worked out on farms; and conditional liberation. The Irish system, as it was known, originally implemented through the location and relocation of prisoners through the various stages at Mountjoy (just outside Dublin), Spike Island and Lusk, was adopted in locally modified form all over the world, including in Switzerland, Australia, India and in the penal reformatories of Italy's Tuscan archipelago. Crofton's work was translated and sent to various nations of Latin America, too. Crofton featured heavily in contemporary discussions of punishment at the international penitentiary congresses, which were convened every five years after 1872. My work continues on the global politics of contemporary comparative writing, global tours and prison visits, and the penitentiary congresses. It is perhaps best reserved for another blog.