My recent discovery of Alexander Sochaczewski's painting, Farewell to Europe!, in the Museum Pawilon-X in Warsaw compelled me to think anew about the experience of political exile and about the innate "wordlessness" that the state intended it to symbolize.  Although Sochaczewski never sold a single painting during his life, today his work is viewed by thousands of visitors who pass through the museum each year. Farewell to Europe! visually describes the anguish of Poles who participated in the January Uprising of 1863 against Russia, and were hence deported to Siberian exile. Political prisoners cluster in groups at the last known border before the Siberian frontier, their grief apparent, the heads of some half-shaven to indicate their criminal status.[1] The painter is there too, for he himself was one of them, had felt the same grief apparent observable in the faces of the other figures–he stands to the right of the obelisk. Sochacszewski served a twenty-year hard labor sentence in the Siberian salt mines, the first few in leg irons, before being freed under the amnesty of  Tsar Alexander II. He then walked home and preserved his memories of political exile in what is known as the 'Siberian Series', the most well known of which is Farewell to Europe!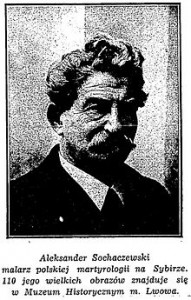 Poltical exile in 18th and 19th century Russia was a penal condition that differed from the experience of criminal exiles in that one of its main goals was to silence the individual. As Sochaczewski's masterpiece depicts, exile embodied a profound physical separation of citizen from homeland. It was also intended to foster another type of separation, however: a divorce of the ideas that constitute the individual's personal and political identity from the identity of the body politic. In accordance with this overarching purpose, as political suspects were taken into police custody, (and unlike criminal offenders), they were usually ordered to cease speaking and writing, to be silent, and to receive silence in return. Often, politicals were held for years in 'stone bags', or solitary confinement, before, like the Poles in Farewell to Europe!, being exiled beyond the Urals. Despite the state's wish that political prisoners be made silent, however, and however stringently enforced this condition was, I have discovered that such individuals found ways to subvert the system, connecting with one another through codified language and, in some cases, leaving textual narratives of their experience.
'It seemed as if all Russia were being exiled . . . '[2]
Achieving the status of political offender was not difficult during the 19th century, although it carried devastating consequences. In 1900, Professor P. Vinogradov, a historian at Moscow State University, noted that 'nobody is secure against [unjustified] search, arrests, imprisonment, and relegation to the remote parts of the Empire. From political supervision, the solicitude of the authorities has spread to interference with all kinds of private affairs', some of which included charges that had little to do with politics, such as immorality, practicing hypnotism, passing out a single political pamphlet, attending a peaceful demonstration, or making noise in the streets.[3] Police followed neither "uniform rule [nor] no consistent methods' in the surveillance and arrest of citizens.[4]
After being arrested, some political prisoners were given a trial, but most were not permitted to defend themselves against the state's charges. They were most often sentenced 'administratively', or without discussion, according to the state's interpretation of 'circumstances, their importance, or the inspiration of the moment'.[5] In 1893, forty-nine percent of those exiled to Siberia had not received a trial.[6] Yekaterina Fialka, who famously attempted the shoot Admiral Tchukhnin at Sebastopol, was executed immediately after the incident in the courtyard of the Admiral's residence;[7] hers, unfortunately, was not an isolated case. Further, the alleged reforms of the 1880s had given legislators the power to prohibit all gatherings both public and private, sentence without trial any person who seemed suspicious, close places of business without notice or reason, to prohibit the carrying of any weapons including pocket knives, and to collect money from civilians for no stated reason.
'How dare you recite verses! Don't you know that absolute silence must reign here?'
 Before deportation to Siberia, political prisoners were often detained in prison for years under conditions of mandatory silence. Voronin, a political exile who was held for nearly a year in complete silence in St. Petersburg (even his jailers wore felt slippers), was hushed by his guards when he tried to speak with them, 'prikazano ni govorit', or 'the order is to not talk'. 'The silence was that of a sepulcher [sic]', he later wrote.[8] Plotnikoff, a student who became a political prisoner for passing "a few pamphlets to some peasants" was shackled in leg irons in Novobelgorod Central Prison for reciting poetry aloud. When in February 1878, he was heard repeating his favorite verse as he paced his cell, the prison warden reprimanded him, "How dare you recite verses! Know you not that absolute silence must reign here?'[9]
As might be expected in an empire as vast as imperial Russia, prison regulations were not uniformly applied and some penal regimes were more lax than others. However, as political pressure on the tsar mounted toward the end of the nineteenth century, the censorship of politicals' speech increased. While imprisoned in Akatui, a prison located far from St. Petersburg, close to the Mongolian border, Marie Sukloff [10] was initially allowed to read certain books and converse with other prisoners. She noted in her memoirs, "the wave of reactions which swept Russian soon after the October manifesto had not yet reached this place, and the local administration still believed that a new political era had dawned in Russia'.[11] As political dissention increased in Russia, however, conditions worsened until she and her compatriots were separated and 'deprived of all privledges' to the point that they felt themselves to be inhabiting a 'living grave'.[12] Another prisoner noted that when borrowed books were returned to the prison administration,[13] they were carefully examined leaf by leaf to ensure that not a shred of paper (for writing) had been removed from them and that notes to others had not been written in the margins.[14]
Family members, who had once been permitted to accompany—or at least write to—relatives exiled to Siberia, were in general denied these rights during the late 19th century. George Kennan, the American explorer  who visited the politicals at Kara with the intention of secretly carrying their personal letters back to European Russia, burned them instead when the warden bragged about his skill for finding forbidden messages: 'I have taken tissue paper with writing on it out of a prisoner's ear, out of a prisoner's mouth, and once I found a dose of deadly poison concealed under a capping of wax in a convict's hollow tooth [. . .] they are very sly, but I know all their tricks' he had bragged. [15] Sergeius Stepniak, who used a dagger to assassinate the chief of police, Nikolai Mezentsov, in 1878, wrote of politicals' confinement after his escape, 'Each man lives a lonesome life in his little cell. Even outside he is still in solitary, for in order that prisoners may see as little of each other as possible, they are made to take their walks at different times and in three different years. Attempts to exchange words with fellow-captives, casually encountered, are strictly forbidden and severely punished. No exclamation may be uttered, no voice raised in this tomb of the living'.[16] The political prisoners of Novobelgorod, despairing of their isolation, undertook a hunger from the 3rd to the 10th of July, 1878, with the goal of increasing their contact with others: being permitted to receive food and approved books from the outside and work and converse with one another.[17] Though Krapotkin, the governor of the prison, granted their requests to induce them to eat, the strikers' conditions were never met.
'What did I care for books or exile or even food when I could once more exchange thoughts and share emotions with sympathetic human beings?'[18]
Mandatory silence and enforced isolation notwithstanding, the voices of Russia's political dissidents were never totally silenced; myriad ingenious methods for preserving both interpersonal speech and the experience of exile transcended the state's efforts to erase individuals' identities and ideas, only several of which I have the space to mention here. On a very basic level, prisoners developed systems of communication that evaded officials' observation until others could be developed. They codified the alphabet according to several numerial systems, one of which was based on a grid of coordinates, which permitted inmates to use small bits of found bone or glass to "knock" words, names, and sentences on the walls between cells during the safest time for illegal "speech": immediately after inspection. As such methods became known to the guards, penal administrators sought to space politicals in every other cell, leaving no one to "knock" to. Sometimes, wardens themselves posed as inmates, "knocking" through walls to prisoners in order to elicit information. As prison crowding dramatically increased in the 1880s and 1890s, however, penal administrators were decreasingly able to use such strategies.
As prison administrations became savvy to their methods, however, political prisoners adapted and created new ones. One inmate described the way in which inmates who were allowed a fifteen-minute, solitary walk in the courtyard would attempt communication: tiny notes, written on scavenged scraps of paper such as cigarette butts, were concealed within small balls of saved bread and dropped on the ground for others to find. Sometimes the message would be but a single name or in all several words; for the finder, however, they offered a reason for great hope: contact with someone outside their solitary cell. If paper could not be found, lengths of thread, painstakingly drawn from sheets, were carefully knotted with alpha-numeric code, balled up, and similarly left in the exercise yard. One political prisoner, having no bread or paper scraps, dropped a small shard of glass in the yard which, when examined by the prisoner who found it, revealed tiny words, written in soup grease, that became readable when exposed to frosty air.[19]
'The world of a single cell'
During one of his stays in Russia, George Kennan received a large, unexpected parcel via the post. The return address could only be made out as somewhere in Siberia. Suspecting that it might contain correspondence from exiles, and to the consternation of Kennan, the police ceremoniously examined the package prior to delivery but found nothing. Upon Kennan's own first inspection, the contents appeared to be a number of Kirghiz tent panels that had been rolled into a large bundle and sewn within a wrapper of coarse linen. No message could be found, and the return address and wax seals did not betray the sender's identity.
Despite the fact that Kennan's own examination of the 'dirty, smoke-stained calico, twelve or fourteen inches in width', amounted to one hundred feet of fabric but little more, the parcel had obviously not been sent without purpose. A more careful inspection of the tent panels revealed that several of the lengths of fabric had been tightly and nearly invisibly basted together—their layers nearly inperceptibly encased 'large sheets of very soft and thin paper, closely covered with writing on both sides'.[20] The first sheet of miniature Russian script bore the title in English, 'The World of a Single Cell'.
The previous year Kennan had traveled to visit the political exiles in the Altai mountains. One of the men had struck him in particular: Eugene Voronin, who had spent time in the Petropavlovsk prison in St. Petersburg prior to exilic deportation, had seemed to possess a rare brilliance and remarkable narrative ability. Before his departure, Kennan had suggested that, notwithstanding the impossibility of sending an autobiographical account through the Russia post, Voronin ought to undertake just such a challenge. 'If ever a man ever has an excuse for egotism, it is when he is shut up alone in a bomb-proof casement. He is then the only possible hero of his story, because he is the only inhabitant of his world', Kennan had advised him. [21] Voronin's concealed narrative, some of which I have used in this piece, remains one of the most detailed first-person textual accounts of tsarist incarceration. Like Sochaczewski standing beside the obelisk, like faint tapping upon prison walls, another voice from the silence of exile.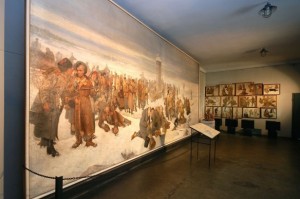 __________________________________________________
[1] M. Kaufman, 'Paintings Depict Tsarist Torture', The Day. 11 Aug, 1985, p. B-4
[2] M. Sukloff , The Life-Story of a Russian Exile, the Remarkable Experience of a Young Girl, Being an Account of her Peasant Childhood, her Girlhood in Prison, her Exile to Siberia, and her Escape from There. Trans. G. Yarros (New York, 1914) p. 169.
[3] G.H. Perris. Russia in Revolution (London,1905) p. 398
[4] Lectures on the History of the Nineteenth Century (Cambridge,1903).
[5] Perris, 398.
[6] Ibid.
[7] Sukloff, p. 168
[8] G. Kennan, A Russian Comedy of Errors (London, 1915) p. 196.
[9] S. Stepniak, Russia Under the Tsars, p. 130-131.
[10] Marie was imprisoned for her involvement with the printing of illegal political materials.
[11] Sukloff, 174.
[12] Sukloff, 174.
[13] A limited number of books were available to prisoners, none of which could be less than ten years old.
[14] Kennan, G. Comedy, p. 213.
[15] Kennan, G. Siberia and the Exile System, Vol. II, (New York, 1891), p. 181-190.
[16] S. Stepniak, p. 126
[17] Ibid, p. 126-7.
[18] Kennan, G, Comedy, p. 221
[19] Ibid, Kennan, Comedy, p. 211.
[20] Ibid, p. 182.
[21] Ibid, p. 184.