Welcome, this is a new blog set up to discuss the use of Stata for conducting Bayesian statistical analyses. I have started it to coincide with the publication of my book entitled 'Bayesian Analysis with Stata', which will appear shortly.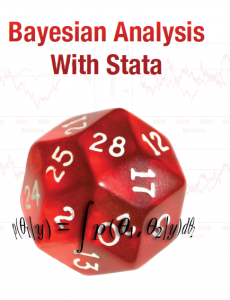 This project started many years ago when I needed to integrate Stata with WinBUGS, a free program for fitting Bayesian models. My aim was to explore my data in Stata, fit models using WinBUGS and then return to Stata to summarize the results. To help with this, I wrote some ado files that enable the two programs to talk to one another and these were described in a Stata journal article (http://www.stata-journal.com/article.html?article=st0115). Subsequently, I developed and extended those ado files and the updated versions form the basis for the book.
WinBUGS has had an enormous impact on the use of Bayesian methods by providing a black-box tool that frees the user from the complexities of the MCMC algorithms that are the basis for modern Bayesian model fitting. The result is that WinBUGS has had both a beneficial and a harmful effect. Beneficial in that it has greatly increased the use of Bayesian methods by non-specialists, and harmful because there are now people who think that 'I am going to run a Bayesian analysis' and 'I am going to use WinBUGS' are two ways of saying the same thing. When WinBUGS crashes or takes days to run, I have known people try different ad hoc changes to the model or the priors until they can get an answer.
WinBUGS is a fantastic program, but because it is not the only option, I decided to add some chapters to the book to show that Bayesian analysis is possible in Stata without WinBUGS, provided that you have a basic grasp of MCMC algorithms. Such an understanding not only frees us from reliance on WinBUGS, but it helps us to understand what is going on inside the black-box and so enables us to make better use of WinBUGS.
When I wrote the book I had in mind a reader who is not a specialist in Bayesian methods but who has some real data that they need to analyse and a desire to discover whether Bayesian methods could help. Consequently, I have tried to explain the basis of the MCMC algorithms in a simple way.
I do not plan to use this blog to go over topics that are already dealt with in the book, but I hope, over the coming months, to discuss some of the issues and applications that space did not allow me to cover in the book. Since the aim of the book is to describe practical Bayesian data analysis in Stata for non-specialists, I will keep to the same approach in the blog and discuss the new issues by analysing real data and developing further applications.
The "Bayesian Analysis with Stata" book cover is used with the permission of StataCorp.  Visit   http://www.stata-press.com/books/bayesian-analysis-with-stata/ for information on the book.