Following on from our last post on Nottingham Local Studies Library, today we explore the other Nottingham-based collection holder the Midlands team worked with – the University of Nottingham's Special Collections.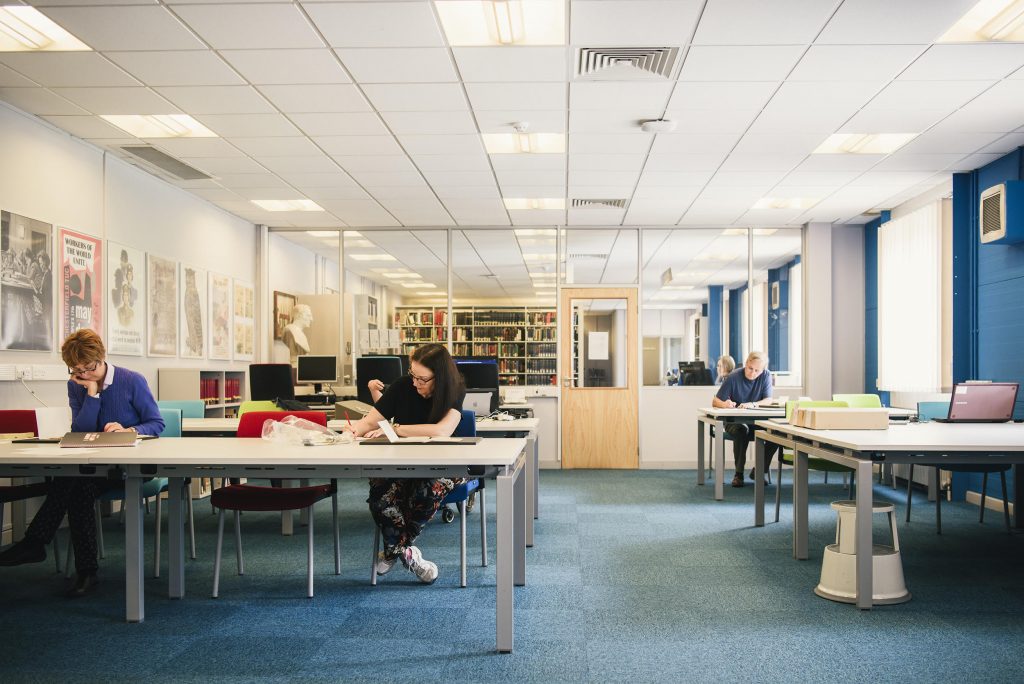 The Special Collections are part of the wider network of libraries at the University of Nottingham and are stored at their King's Meadow Campus. The notion of a university library can conjure up a romanticised image of shelves upon shelves of books, with special collections containing important manuscripts and rare books. Whilst printed material does make up a substantial proportion of items deposited within university libraries, one can often find a variety of different media to explore within their catalogues. The University of Nottingham's Special Collections contains many sound recordings, either as distinct collections by themselves, or as part as larger collections consisting of a mixture of media formats. The size of these collections varies from one reel of tape to several cassettes, however, the digitisation and cataloguing process undertaken by the UOSH projects means that all of the recordings will be made more accessible.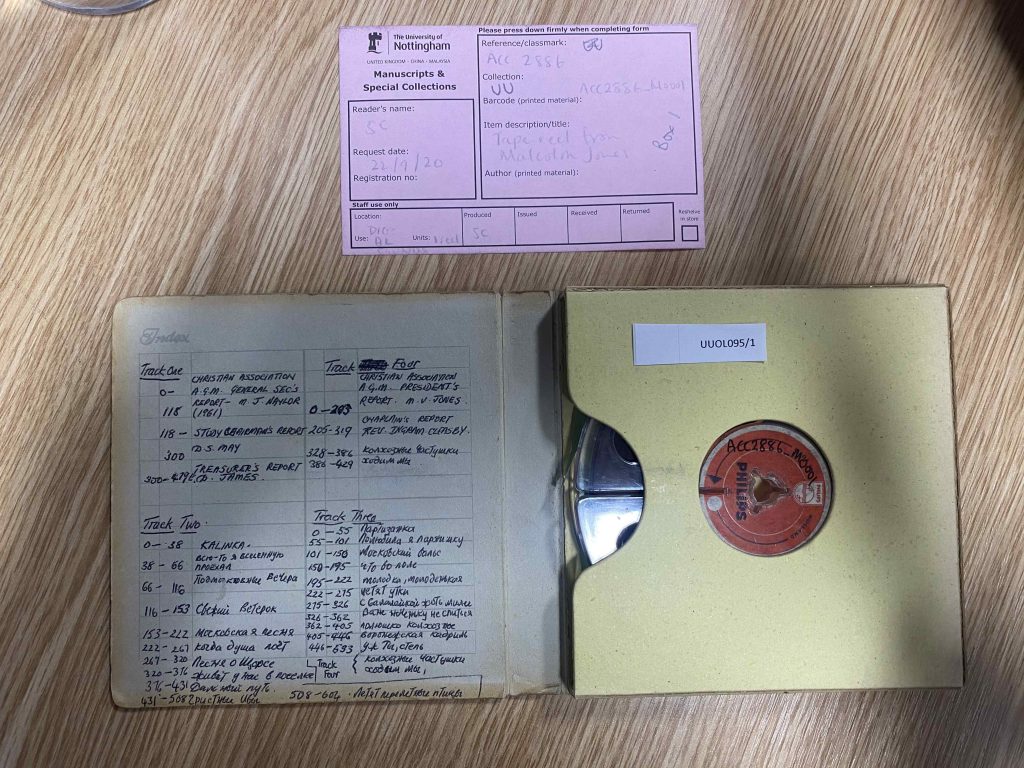 Amongst the numerous recordings the team worked with from the Special Collections a personal highlight is the interviews from the BHT Research Papers collection. These interviews were undertaken between 1987 and 1996 with various people associated with the University of Nottingham as part of Brian H. Tolley's research into the development of the University and the history of its various schools and departments. The research was used to assist Tolley in writing his book 'The History of the University of Nottingham', which was published in 2001. University professors and council members are among those interviewed, as well as the former Vice-Chancellor Lord Dainton. There is also a fascinating interview with Brian Davey discussing student political activism, including the establishment of the University's Socialist Society. This collection offers a unique perspective into university life, allowing us to better understand the Higher Education sector.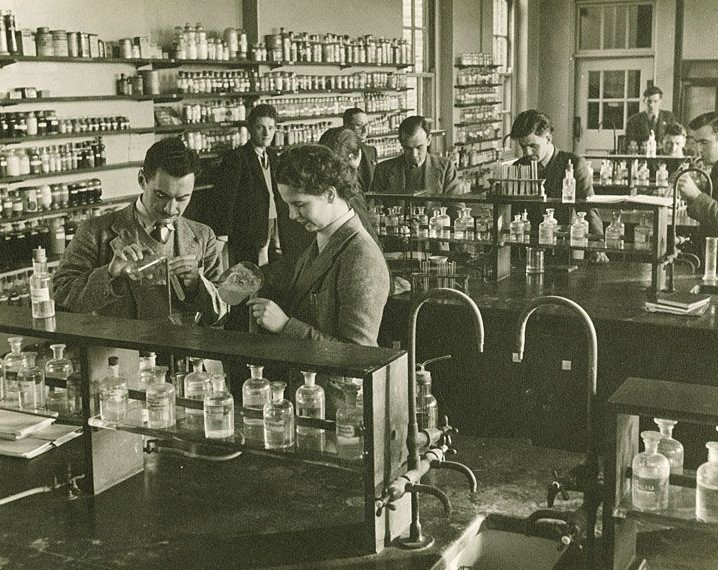 The other collections from the University of Nottingham's Special Collections that the Midlands hub worked with were: 
D.H. Lawrence Collection – recordings relating to D.H. Lawrence's life and work including meetings of the D. H. Lawrence Society, lectures, and radio programmes. 
University of Nottingham Christian Association – recording of reports given at the University of Nottingham Christian Association's Annual General Meeting, 1961. 
Records of St. Andrew's-with-Castle Gate United Reformed Church- recordings relating to the church, including services and music, recorded between 1965-1990. 
Five stories about Love – A recording of poems on love dedicated to Connie Ford, a published poet and qualified vet (who was awarded in MBE for her work on infertility in cattle) read by their author, Nottingham poet Howard Atkinson. 
Colin Wilson Archive – recordings of lectures by, and interviews with, the writer and philosopher Colin Wilson, recorded between 1976 and 2001. 
University of Nottingham Adult Education Department Archive – recordings prepared by the Adult Education Department at the University of Nottingham between 1968 and 1972. Includes collaborations between the University and BBC Radio Nottingham, and radio programmes considered to be of interest to students and staff. 
George Green Bicentenary – recording of a series of talks and lectures about Nottingham born mathematician George Green (1793-1841), hosted by the Royal Society to celebrate his bicentenary year. 
Francis Harrison Collection – oral history interview with Francis Arthur Harrison (1895-1988), a physics student at the University of Nottingham from 1919 to 1922. 
William Rogan Collection – recordings made in 1977 by William Rogan himself, recalling his experiences during the Second World War and as a prisoner of war. 
St John Ambulance – recording of a lecture given by Professor David Greenfield to the St John Ambulance Medical Conference, held at the University of Nottingham in 1977. 
Dr Sinclair Evans Collection – recordings of lectures and speeches given by Dr. Sinclair Morris Evans, a GP from Leicester. 
Nottingham General Hospital Oral History Project – interviews with three former hospital staff members at the Nottingham General Hospital, recorded in 1994. 
The Lewis Collection – recordings relating to Professor Michael Lewis, former director of the Institute of Education at the University of Nottingham and his wife, Hilda, author of historical and children's fiction, including a lecture by Michael Lewis by 'What can we learn from the deaf city?' 
To find out more about the University of Nottingham's Special Collections visit their website. You can also use the British Library SAMI catalogue to explore the sound collections further. 
Post by Elizabeth Gray.