During the UOSH project we worked with collection holders across the Midlands – two of which are based in Nottingham. Over the next couple of blogs we will be examining these in more detail, starting with Nottingham Local Studies Library.
Nottingham Local Studies Library is part of Nottingham Central Library, the main library in the city. At the time of writing, a new Central Library is in development and the Local Studies collections will move to this site when it opens. During this interim period the Local Studies team are offering web resources and an email enquiry service as visitors are unable to access collections physically. This has meant it is even more crucial that materials within the collection are digitised in order to ensure engagement can continue.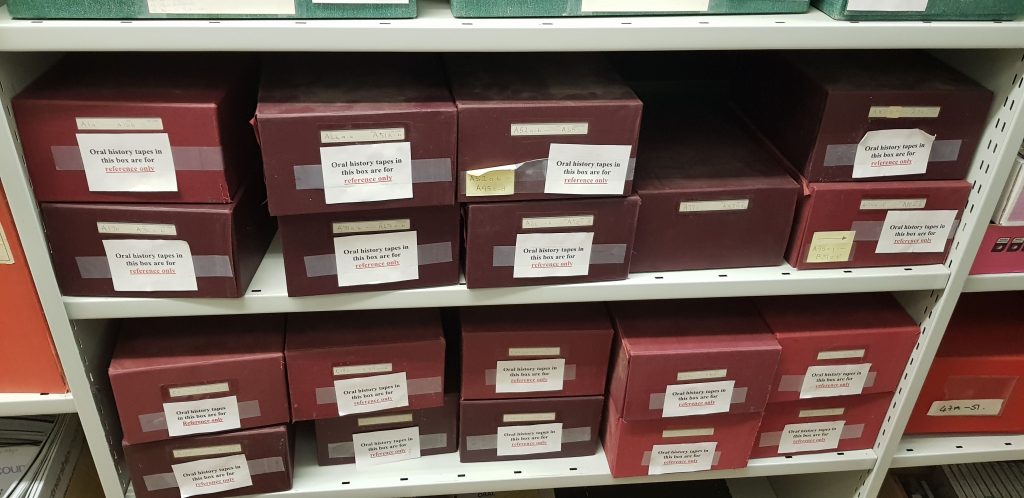 The Local Studies library holds a substantial oral history collection, comprising 104 interviews with people from Nottinghamshire. The interviews were untaken as part of the 'Making Ends Meet: Earning a Living in Nottinghamshire 1900-1950' project which was led by the Centre for Local History at the University of Nottingham. The project focused on exploring the three main sources of employment in the county: textiles, mining and agriculture. However, as we have seen from other oral history collections, the interviews cover a much broader scope of topics. In the following clips you can hear some of the team's favourite highlights from the collection- giving you a taster of its diverse content.
In the first of our clips we meet Mr. B. Stokes who worked as a night porter at the Flying Horse Hotel. He shares an amusing anecdote about the time the famous actor Bela Lugosi stayed at the hotel.
In the following clip Ms. E.M. Clarke discusses founding her own medical practice in Wollaton in 1927 and reflects on how female doctors were perceived in Nottinghamshire during this period.
Our final clip comes from an interview with Mr. J. Charlesworth who was involved a variety of political activities. Here he recounts his experience of campaigning for Indian independence with V. K. Krishna Menon. When India was granted independence in 1947 Krishna Menon was appointed as the ambassador to the country in London. After returning to India in 1952 he went on to become a significant political figure, becoming a member of the Indian Parliament in 1953, and holding various ministerial posts, including the role of Minister of Defence. He also represented India in the UN General Assembly from 1952 to 1960.
To find out more about Nottingham's Local Studies collections visit the Nottingham City Libraries website. You can also use the British Library SAMI catalogue to explore the sound collections further.
Post by Elizabeth Gray.