Iconic fictional characters of childhood can be attributed to the creativity of Beatrix Potter, author and illustrator of the late 19th – early 20th century.
Adult and child alike will be familiar with the mischievous protagonist that is Peter Rabbit; a story which after several rejections was published by Beatrix herself, printing an initial 250 copies for family and friends in December 1901. Following the immediate success of The Tale of Peter Rabbit, publishers Frederick Warne & Co (who had previously turned it down) encouraged Potter to reconsider their decision with the clause that it be re-illustrated in colour.¹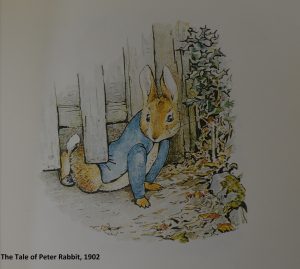 After its publication in 1902, The Tale of Peter Rabbit was just the start of the legendary tales which were, and continue to be, enjoyed by the masses.
Thursday 28th July 2016 marks the 150th anniversary of Beatrix Potter's birth, and what better way to celebrate than to rediscover favourites such as: The Story of Miss Moppet, The Tailor of Gloucester, and of course The Tale of Peter Rabbit. Early editions of these can be viewed in the David Wilson Library in the Special Collections reading room.
¹ http://www.peterrabbit.com/about-beatrix-potter/