From the majority of people I've spoken to it seems that few expected to work in academic libraries after leaving university.  And the same goes for me. During university I'd spent time considering future career plans but librarianship hadn't been one of them; simply because I knew very
little about it. It wasn't until after my final year exams that I looked into it more and started to realise it was something I would really enjoy.
Luckily I had an appointment with the Careers Development Service around the same time
and it was through them that I became aware of the internship offered by the
library. After researching both the internship itself and information management careers I succeeded in getting an interview and was offered the position.
The internship didn't actually start at the David Wilson Library but instead at Vaughan College. I was working with the Collections Management team to transfer
books to DWL. It feels like such a long time ago now but there are a couple of standout memories. The first is this slightly sinister front cover for a book about waxworks. The second thing I remember is the most difficult task I faced
whilst at Vaughan: leaving the building. I'd like to say I don't usually struggle with this but I do often have difficulty with doors. Although, this time it was barriers. For some reason they rarely opened for me and I had to seek assistance to be able to leave.
The focus of my internship was to work with a variety of teams to gain an understanding of the work they undertake on a daily basis. Those kinds of tasks
made up the majority of my time but as an intern I would occasionally get different tasks to work on. With Collections Management I was given a mini project to complete. Using architects plans I mapped out the library; noting down information such as the amount of shelves being used in each section and where subject ranges could be found. It was an enjoyable task to be involved in because it enabled me to gain a good understanding of the layout of the library; something which was useful when working with Public Services. I was also able to exercise my creative side with the details on the maps. What I really mean is that I spent some time colouring in.
For those of you interested here's a poster with a selection of the tasks
completed during the internship.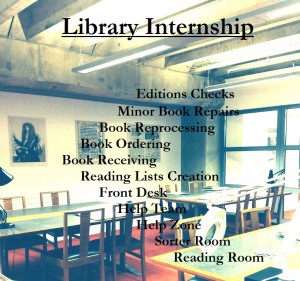 For the majority of my internship I worked with the Special Collections team. I was given two projects to complete during my time with them. The first was to assist with social media output for the team; which included the creation of this blog. The greatest success I had with this task was the posts on Facebook about the names behind the university buildings. It was encouraging to see students engage with the posts and I had a great time looking through photographs in the university archives to include with the post.
The second project was to rationalise the university archives finding aids. There is no way I can easily explain this project. I've taken some pictures to attempt to demonstrate what the outcome was. Basically the side of it you will see is the new furniture we have in the reading room with the nice folders. There were many stages involved in the project including a lot of scanning and reformatting nearly 500 files! I've never been involved in a project like this and being able to work on it through to its (near) completion has been a great experience. I would seriously encourage you all to have a browse at the new finding aids; you'll be amazed at the size of the university archives and what they contain.
How to end this? Apart from trying to encourage you all to use the new finding aids for the archives (PLEASE) I would also encourage anyone considering a career within libraries or information management to apply for the internship when it is advertised over the summer. It is such a worthwhile experience; you'll learn a great deal and work with some amazingly supportive and encouraging people!