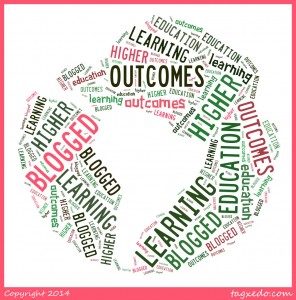 Welcome to the first blog of the 'Learning Outcomes' project at the University of Leicester (UoL).  Most people will be aware that there is currently much focus on developing, or further embedding, a learning outcomes approach in UK higher education (i.e. 'By the end of this module, students will be able to…).  This focus has led to the development of a project at UoL that is investigating how students and academic staff understand and actually use learning outcomes. 
As part of this project we have spent a lot of time reviewing the published literature on learning outcomes (LOs).  Before we began this blog though, we were curious to see what opinions have been expressed about LOs in other blogs.  Below are some interesting links that I've found:
http://learningsnippets.wordpress.com/2013/09/22/from-learning-outcomes-to-performance-outcomes/ 
Snippet from Matthew Guyan's post:  'why don't we call them Performance Outcomes? Surely, by moving away from the term Learning Outcomes and calling them Performance Outcomes, we can focus on the desired performance required from learners and not what content is to be covered during the course?'
http://www.saffroninteractive.com/why-emotional-outcomes-matter-just-as-much-as-learning-outcomes/
Snippet from Toby Harris' post: 'it's time to start seriously asking where the e-learning course or platform that you have planned fits into the emotional narrative of your learners' lives…perhaps it's time to start including emotional outcomes, as well as learning outcomes, in your next project specification.'
http://blogs.usfca.edu/assessment/2013/08/01/learning-outcomes/
Snippet from mcguire's post: 'Do we only care about outcomes? No, definitely not. Professors have other goals. For instance, I wanted my advanced research methods students to be able to talk intelligently about the limits of research studies when talking to their families about the latest story about infant abilities in Time Magazine. Is this a learning outcome? No.'
These three examples show the wide range of thinking that is occurring around LOs and they spark a lot of debate.  For example, are 'performance outcomes' going too far down a behaviourist route?  Is what happens in HE all about what learners will 'perform'?  To what extent can we define emotional LOs?  And if we did this, would we be making learners' emotions fit a performative agenda?  To what degree do academics feel they can still care about goals that are not so easily defined as learning outcomes?
Anyone thinking learning outcomes is a straightforward topic would be mistaken – these three blog posts clearly demonstrate that it is not.  It makes our Learning Outcomes project an interesting one to work on though and we look forward to keeping you updated with our progress.  We also hope that readers will share their thoughts and opinions on this much-debated topic too.