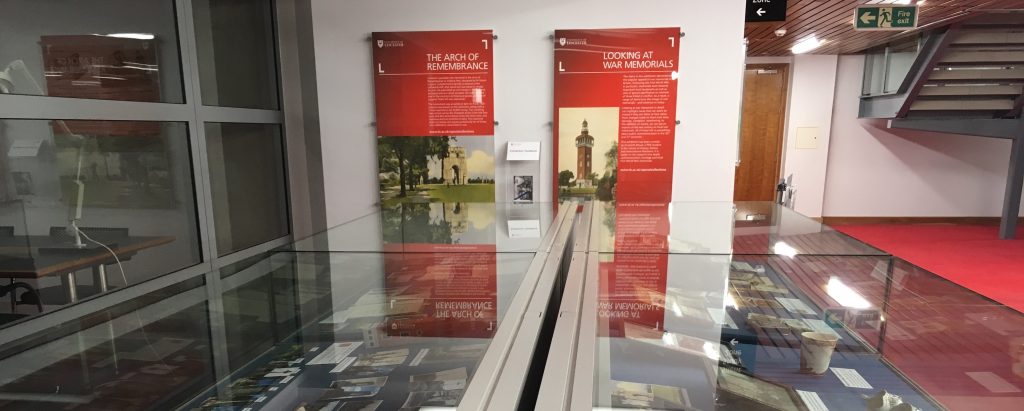 In October-November 2019, Archives & Special Collections featured an exhibition in the cases outside our reading room, entitled Looking at War Memorials. This was curated by me in my capacity as a PhD student in the School of History, Politics and International Relations using objects, photographs and documents from my own collection as well as from the University's Archives & Special Collections. Why not read how I did it to find out more, and consider exhibiting your own research topic using the University's Archives & Special Collections?
The items in this exhibition demonstrated the popular appeal of war memorials in Britain. Following the First World War in particular, memorials soon became important local landmarks as well as sites of special significance to relatives of those killed in conflict. As a result, a range of items bore the image of war memorials – and continue to today.
Looking at war memorials in detail can highlight issues that can easily be missed if they are taken at face value. From changes made to them over time, damage, vandalism, weathering, to the addition of names, we can see an imprint of the last century on local war memorials. All of these tell us something about public commemoration in the 20th and 21st centuries.
Case I: War Memorial Memorabilia

These objects demonstrated the popular appeal of war memorials. Monuments had quickly become important local landmarks, as well as sites of special significance to those who had lost loved ones. As a result, a range of items bore the image of war memorials – and continue to do so today.
Crested china monuments, 20th century (various):
These figures take the form of war memorials in Matlock Bath (matching large and small) and the Angel memorial at Clacton-on-Sea. In front, is a model of the Lutyens war memorial at Norwich (missing the flames).
Glass diamond on miniature easel, c.1920s:
Depicted in the centre of this glass picture is Bargoed and Gilfach war memorial, Bargoed, Mid Glamorgan, Wales. This memorial was unveiled in 1923 but did not bear any names at that time. Names were added in 2005, when the memorial was rededicated. It had been moved from its original location in c.2000 at the request of the local Royal British Legion branch, due to repeated acts of vandalism.
WW1 patriotic beaker by Royal Doulton, c.1919:
As well as depicting a soldier, tank, ship, plane and guns, there is a female figure of Victory on the reverse. Around the top of the beaker it says "Great Britain and Her Glorious Colonies: Montenegro, Portugal, Japan, Belgium, America, France, Italy, Serbia, Roumania."
Case II: Collecting War Memorials

As well as objects like those in Case I, war memorials were captured in other ways that enabled people to collect things associated with them. Here we showcased postcards and postcard sets, playing cards, cigarette cards, guidebooks, sketches and a rare postcard album that features mainly postcards of Scottish and other UK war memorials.
Leather-bound album of postcards, Scottish, c.1910s-1930s:
This album shows that people were collecting postcards of war memorials from very soon after they were unveiled. At the time, it was not uncommon for people to have photographs taken of a newly unveiled gravestone, sometimes surrounded by the family, and made into postcards as keepsakes for other mourners. This also happened with war memorials. The album shown here was put together by someone living in Scotland and with a family connection to the Armed Forces. Many of the postcards are of local Scottish monuments, but many national and some overseas examples are also included. It has been carefully put together by hand.
Postcards, photograph and bronzed cigarette card showing the Royal Artillery Memorial, Hyde Park Corner, London, c.mid-20th century
Designed by Charles Sargeant Jagger, this memorial was built between 1921-25. Although now considered one of the greatest war memorials in the country, its reputation suffered from harsh criticism of its realism and imagery. In a reappraisal of 1985, linked to an exhibition of Jagger's work, James Stevens Curl asserted that "the works of Jagger… remain in the mind's eye, their powerful compositions and stunning imagery as fresh and unforgettable as more familiar great works of art from antiquity."
"Souvenir Playing Cards: 52 Selected Views of Scotland", c.mid-20th century
This pack of playing cards showing landmarks of Scotland includes several war memorials. This highlights the memorials' profile in the national consciousness, as well as their significance as works of sculpture in the public realm. These packs are copyrighted to Raphael Tuck & Sons, Ltd., and were made exclusively for United Cigar & Tobacco Co. Ltd., of Glasgow.
Case III: Unveiling War Memorials
Most memorials in Leicestershire were unveiled between 1918 and 1926. Some communities were quick to build a monument, others discussed it for years before a scheme was decided upon. When memorials were unveiled, there were formal services and ceremonies held, mainly by officials such as from the Lieutenancy, nobility, religious leaders, community figureheads. This exhibition case featured some unveiling images, postcards taken at or shortly after unveilings, and some pamphlets from unveiling events.
Printed circular concerning "A University College as a Living Memorial after the War …" at Leicester:
Although the idea for a University in Leicester had been discussed in public since the late 19th century, it gathered pace around the time of the First World War. Whilst plans had to go on hold, the end of the War was an opportunity to garner support, considering the University as a kind of war memorial, together with the arch in Victoria Park.
Roll of honour of the men of Leicester and Leicestershire in the Great War, 1914-1919:
Although Leicester's Arch of Remembrance in Victoria Park is one of the finest war memorials in the country, it does not bear any names. Instead, the names were collected by the City and a limited number of these Roll of Honour books were produced. This copy was gifted to Dr Astley Clarke. Another copy can be seen in Leicester Cathedral.
The form and order of the unveiling ceremony of the Arch of Remembrance, Leicester, 04 July 1925:
This copy of the unveiling booklet for the war memorial in Victoria Park was printed by T H Crumbie Ltd. of Halford Street, Leicester. It features illustrations by students of the Art School, and gives a history of how the memorial came to be chosen and located. The pamphlet was sold in an effort to raise more money; only £16,000 of the £25,000 needed to pay for the monument had been raised by the time of its unveiling.
Case IV: Leicestershire War Memorials

This case showed some of the variety in design of war memorials around Leicestershire. It also featured some "then-and-now" postcard images that show how memorials may have changed over time. It also includes some examples of more artistic responses to memorials; a make-your-own model, a tapestry, and a quilt.
3-D model, copyright: Loughborough Carillon Tower and War Memorial Museum:
This cut-out model was downloaded from the museum's website: http://www.carillontower.org.uk/model.htm
It won a Leicestershire & Rutland Heritage Award in 2018 for best project costing under £750. Make a print-out and have a go yourself!
Photograph of a section of tapestry in the Symington Building in Market Harborough (the Council Offices):
This recent tapestry includes Harborough's First World War memorial. The design of the cross, by architect W Talbot Brown caused controversy locally, as it was not intended to include names. Name panels were added following a public petition. The War Memorial Committee originally considered a public library as a memorial but opted for a cross. It was unveiled in September 1921 by Major-General Sir Reginald Hoskins, KCB, CMG, DSO and dedicated by the Bishop of Peterborough. Moving image footage of the ceremony exists.
Photograph of a section of a village quilt by local expert artist Linda Straw, hanging in Lubenham Church:
This section of the quilt depicts the war memorial in Lubenham, which was unveiled in April 1920 by Lieutenant-Colonel the Honourable G Stanley, GCMG, MP. The monument was unusual for having a sundial towards the top. The memorial was relocated after the Second World War to its present position in new memorial gardens.
More Information
This exhibition was linked to National Lottery Heritage Fund-supported research undertaken by Elizabeth Blood for the Century of Stories Project run by Leicestershire County Council. A link to the paper resulting from this research, is published online by the Records Office for Leicestershire, Leicester and Rutland:
Blood, E., 'Changing Leicestershire War Memorials,' research paper online at http://www.recordoffice.org.uk/wp-content/uploads/2019/03/EBlood_CenturyOfStoriesPaper.pdf