Guest post from Yineng Zhu, Andrew Permain and Joe Searle, MA Museum Studies students working with the Archives & Special Collections team.
Yineng
Hello, I'm Yineng Zhu and I have been doing a placement with Special Collections in the Library as part of my MA in Museum Studies. My project is about the University Library's history. There are some tasks in this project. Firstly, I need to do some research on the historical background to collect and identify the significant events and key individuals in the Library's history. And then creating a timeline online to record the information I gathered before. Moreover, I need to prepare and install a physical exhibition which focuses on a specific theme, individuals, or key dates in the Library's history. Meanwhile, I will learn how to carry out an oral history interview and summarize recording. Finally, I will also know more about digitization and OMEKA to digitize archives, as well as creating metadata and exhibition page.
In the last two weeks, I did some literature review and made a detailed note about the University Library's history. Recently, I began creating a timeline by using the software called Tiki Toki. In order to identify these themes convincingly, I plan to choose proper documents, such as electronic photographs, archive documents, and web links. Besides, I will divide these historical themes in decades by different colour. For example, the appointment of staff, the opening of new library buildings, different donations and so on. The image shows the timeline I start creating recently.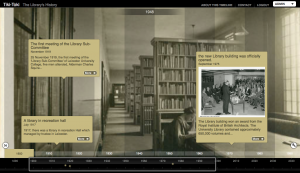 Andrew
The project that I have been tasked with conducting research into is the history of Fielding Johnson Building. A history of 245 years stretching back to the 19th Century and the year of our lord 1837. This grand building has seen much change since it began life as the Leicestershire and Rutland County Lunatic Asylum back in 1837. Today this grand building is still standing having survived two world wars and various changes to make it suitable to be used for the teaching of students. Over the past two weeks, I has spent many an hour siting in the reading room examining various materials that relate to this grand and significant building's history including one book dedicated just to the history of the 5th Northern General Hospital (See image). Through a thorough read and analysis of material I have learnt much about the history of this grand building. I discovered that in the more recent additions of the University's reports the famous Geneticist of the University Sir Alec Jeffreys is always bar one photo pictured with his DNA finger print invention. Another thing that one discovered is that the Fielding Johnson building at one time contained an Aquarium.
Finally I wish you all to remember the University's motto particularly as it has now disappeared from the university's logo.
Ut vitam habeant  'so that they may have life'.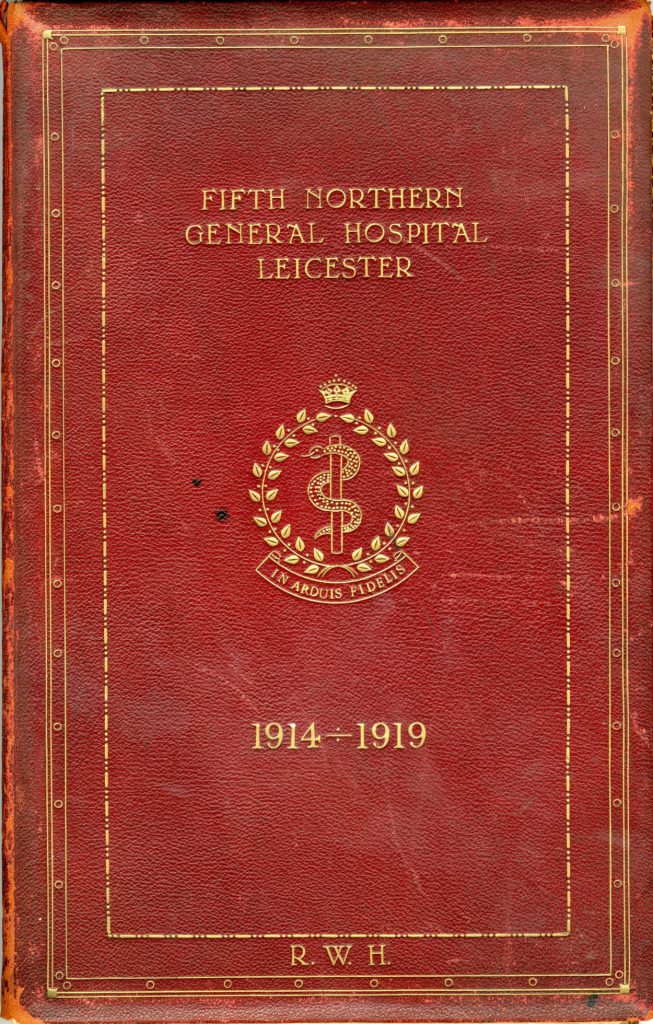 Joe
Having finished a review of the literature on the use of multi-touch displays in various contexts, it was now time to begin learning how to create these experiences for myself. To do this, I have been using 'IntuiFace' – a software package designed to create interactive experiences for touchscreen displays without having to write code.
My first exposure to IntuiFace began in Week 1, when I was introduced to Library staff who had previously developed content using the program. Examining their work provided a helpful starting point, but unfortunately no-one had accrued a significant amount of experience with IntuiFace (the Library staff are, after all, very busy), so it was left to me to begin teaching myself how to use it.
Thankfully, there exists a wealth of information online to help new users. I began the week by working through this material and completing the IntuiFace tutorial, which guides users through creating their first experience. Though certainly useful, this tutorial only covers a tiny fraction of what it is possible to build using IntuiFace, so the best way to learn from this point was to begin building my own prototypes.
Prototype 1 – Timeline of the First World War
When considering what to build, I reminded myself that I needed to somehow leverage the unique advantages offered by large multi-touch displays. Bearing this in mind, I decided to develop an interactive timeline, which seemed to offer a good balance between information and interactivity. The timeline showed major events in the First World War, a subject I chose simply because the information was readily available and familiar to me, which allowed me to concentrate purely on its design. Developing this prototype helped to sharpen my skills with IntuiFace, and also served as a valuable proof-of-concept – if my final output features a timeline (which seems likely), then I can draw from my experience of building one here.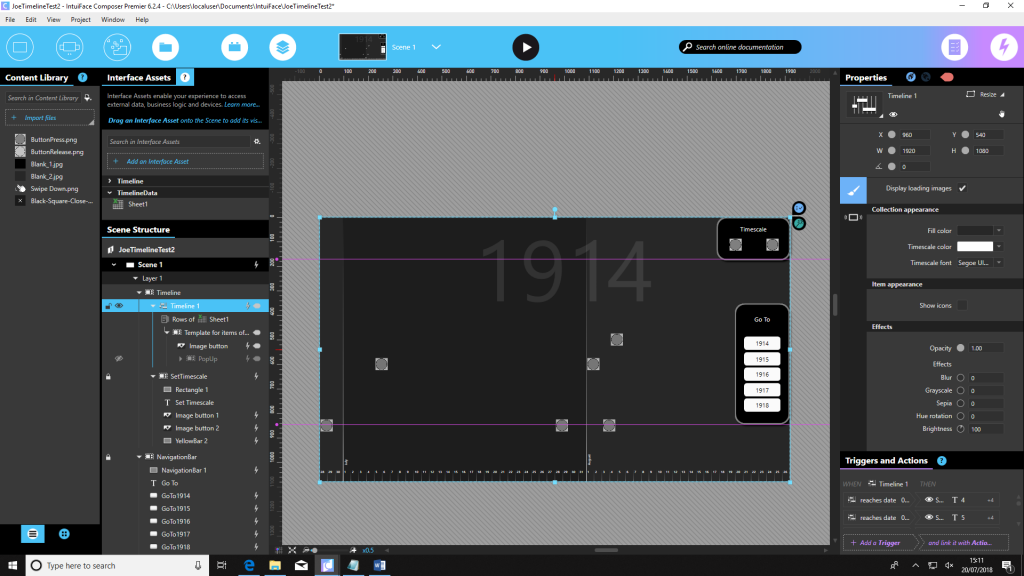 Figure 1: The Timeline Prototype viewed inside IntuiFace
Prototype 2 – Interactive Map of Leicester
My placement requires me to showcase digitised content from the University's Archives and Special Collections, which at the time of writing, mostly seems to feature the local history of Leicester. The main problem I am facing is that it is difficult to find ways of making this material compelling to interact with. One solution I have developed is my second prototype, an interactive map of Leicester, which uses material from the 'Vanished Leicester' collection – a series of photographs of streets and buildings in Leicester which have since been demolished. Thanks to a previous project, some of these photographs now have GPS data, which allows me to accurately plot their location on a map in IntuiFace. This data has already been plotted onto Google Maps using Google Fusion Tables, but the advantage of importing this into IntuiFace is that I can build much more interactivity than is possible with Google Maps. It remains to be seen if this idea will be developed further, but building it certainly required me to dig deeper into the more advanced features of IntuiFace, which will help me in my future projects.

Figure 2: The Interactive Map experience, running in IntuiFace Player
Prototype 3 – Exploring Interactivity
My third prototype was not a single project – rather, I thought it was valuable to experiment with various different methods of interaction using touch. This was mainly to satisfy my own curiosity – since I have never before developed content for touch devices – I wanted to get a sense of what interactions are possible. First, I decided to rebuild some previous work – the 'Trustometer' – and try to add more interactivity to it. This was a simple experience that had users sort various sources by their reliability. My input was to make it so that users could sort the sources into two boxes – more reliable and less reliable – with the sources disappearing when users put them in the right box. Interestingly, I remade this experience a second time when I discovered a way to build the same level of functionality in a more efficient manner.

Figure 3: My rebuilt version of the 'Trustometer' experience, with added interactivity
My other experiments were short attempts to achieve a specific effect. For example, I discovered ways to build parallax scrolling, a before/after image comparison that can be interacted with, and an 'x-ray' effect where users can drag a box which reveals hidden details in an image. These experiments have helped me to see different methods of interaction beyond simple taps and gestures, and will no doubt feature in my projects in the future.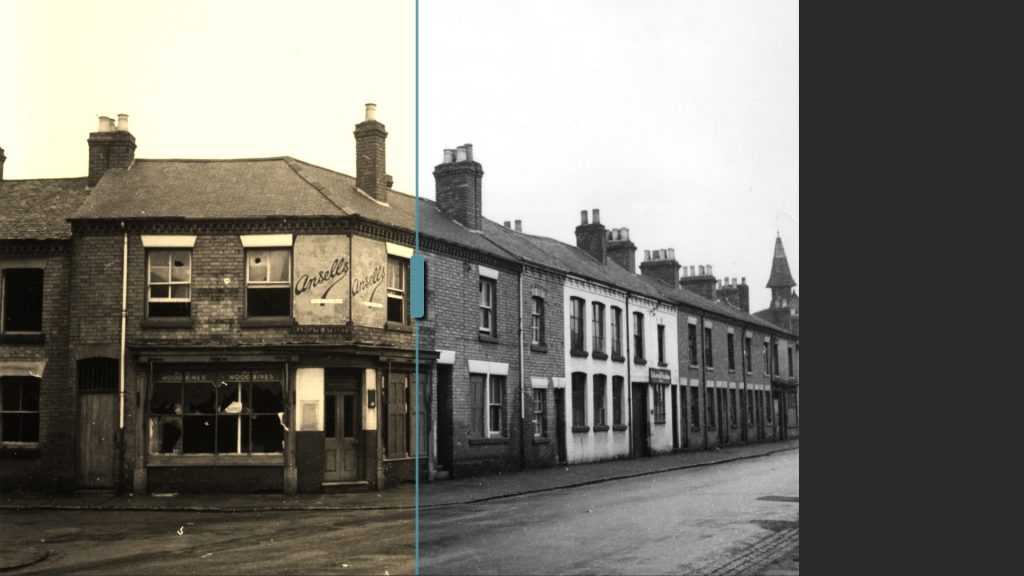 Figure 4: Before/after image comparison with draggable slider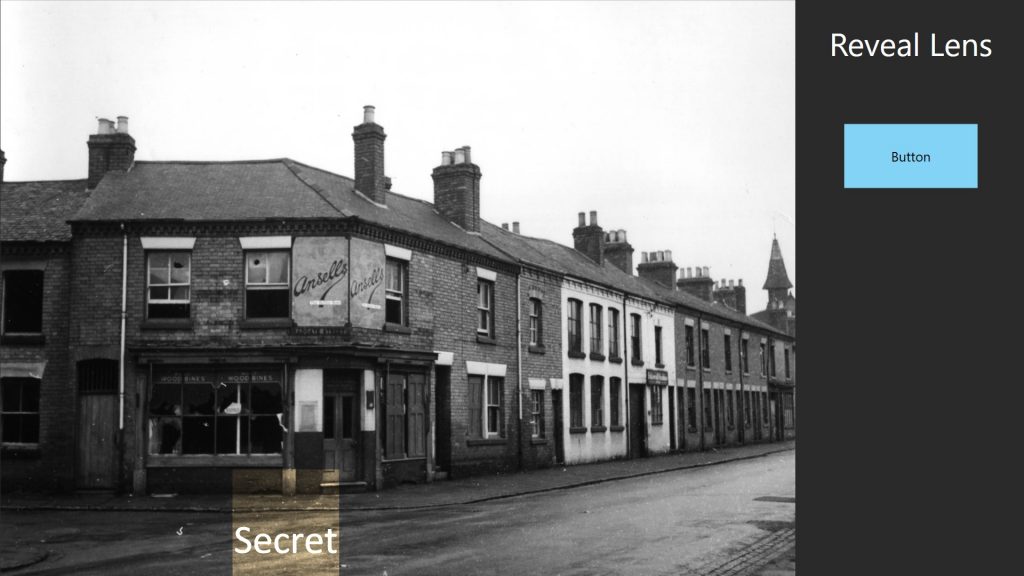 Figure 5: 'X-Ray' Image viewer
Within the past week, I have gained a significant amount of experience using IntuiFace, and now feel confident using its basic functions – and even some of its more advanced features. There is certainly more to learn, but for now, my knowledge is sufficient to build working prototypes and explore possible ideas. Next week, I will be testing how content performs on the technology in the Digital Reading Room, and see what special considerations may have to be taken, for example, when publishing content on the interactive wall versus the table. This will ultimately result in a complete prototype from which we can gain valuable information about the potential of multi-touch technology.