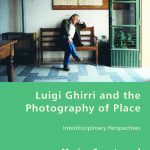 Our book on Luigi Ghirri has just been published:
M. Spunta and J. Benci (eds), Luigi Ghirri and the Photography of Place. Interdisciplinary Perspectives (Oxford: Peter Lang, 2017)
https://www.peterlang.com/view/product/79823?rskey=lwTAcx&result=1
Many thanks to all the contributors and to all those who supported our research project.
Please share this with interested colleagues.