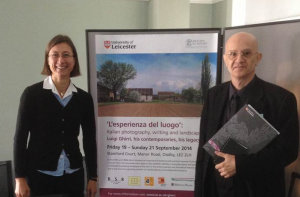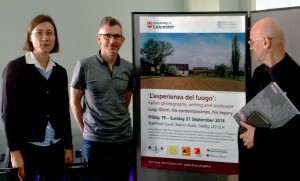 'L'esperienza del luogo': Italian photography, writing and landscape. Luigi Ghirri, his contemporaries, his legacy
The second event of our project was a three-day conference entitled 'L'esperienza del luogo': Italian photography, writing and landscape. Luigi Ghirri, his contemporaries, his legacy, which took place at the University of Leicester (Stamford Court) from Friday 19 to Sunday 21 September 2014. 
The conference was supported by the British Academy and the Society for Italian Studies, and was held under the patronage of the Italian Cultural Institute in London, the British-Italian Society, the Regional Government of Emilia Romagna, the Municipality of Reggio Emilia, the Panizzi Library in Reggio Emilia, the MAXXI (Italy's national Museum of the Arts of the Twenty-First Century) in Rome. Special thanks are also due to the University of Leicester and the British School at Rome, who agreed to support the project at different stages.
The conference brought together photographers, visual artists, and scholars from different fields (including Italian studies, cultural/visual studies, history of art/photography, literary studies, philosophy, geography, architecture) and offered a new, interdisciplinary approach to the work of Luigi Ghirri (1943-1992) and its context, as well as some case studies on the intersections between Italian photography, literature and place. The keynote speakers contributed insightful reflections on contemporary Italian literature and place studies – Professor Giulio Iacoli (Univ. Parma), Registrazione disturbata. Di alcune tendenze della narrativa italiana contemporanea dinanzi al paesaggio – and on Ghirri's photography – Professor Maria Antonella Pelizzari (Hunter College, CUNY, New York), To Show but Not Tell: Luigi Ghirri's Topographies.
The conference programme and abstracts (in English and in Italian) are available here:
http://www2.le.ac.uk/departments/modern-languages/research-1/ghirri/conference-university-of-leicester-19-201321-september-2014
The papers sparked some lively debates and gave us all the opportunity to view Ghirri's work from new perspectives and to re-think the intense collaborative climate of the 1970s and 1980s of which Ghirri was part. The delegates enjoyed the interdisciplinary yet focused nature of the conference and the welcoming and friendly atmosphere.
To coincide with the conference the organisers curated a virtual exhibition of contemporary Italian landscape photography, which was screened as a video loop in Stamford Court during the conference. The exhibition included ten photographs by Luigi Ghirri, courtesy of the Ghirri Estate, and ten photographs each by six Italian photographers of different generations, who have worked on landscape: Cesare Ballardini, Vittore Fossati, Marcello Galvani, Sisto Giriodi, Luca Nostri, Paolo Simonazzi.
We are hoping we will be able to continue the discussion on the blog with some of the delegates and with other colleagues who were not able to attend the conference.