Seeing as this is my last working day of 2013 I thought I would do a quick recap of 2013 and a bit of a preview of the events and outreach of 2014.
Since the announcement of the identity of the Greyfriar's Skeleton as Richard III on 4th February 2013 and my appointment in April to outreach officer there has been so many wonderful moments.
In May, with the Genetics and Archaeology outreach officers, we presented a week of primary school sessions for local children in years 5 & 6.  They were fantastic! They extracted DNA from bananas and explored how the skeleton of Richard III might have got his wounds by learning about medieval armour.    The sessions were thoroughly enjoyable.
In June, there was the Summer Reunion and Richard III Family Open Day.  This was a chance for people to come onto campus, listen to some of the dig team speak about their experiences and take part in some of the activities on offer.  I even had a go myself.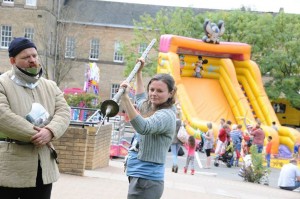 July was the second Greyfriar's Dig and it gave me an opportunity to try my hand at archaeology.  My excuse was that I needed to blog about what they were doing, the processes they used and what they were finding.  The viewing platform at the dig had about 200 people visit it each day, quite often with people coming back each day to see what they had found since the day before.  The weather was beautiful for the most part (too hot some days).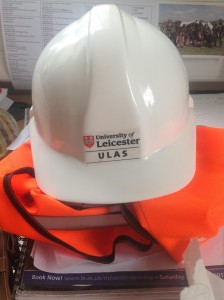 In August, we went to Bosworth Battlefield Weekend at the Bosworth Battlefield Centre.    It was an amazing weekend, we met so many new people and were able to show them finds from the dig and tell them about the discovery.  I even got my picture taken with 'Richard III' from the reenactment.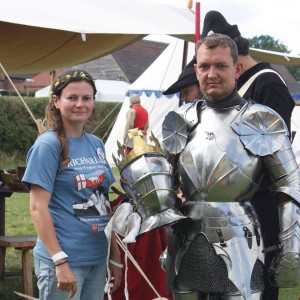 We have been working with the Cathedral and Council on their projects and the new visitor centre, spoken to A-Level students about Richard III and the University of Leicester, launched books, written teaching resources and Skyped children across the country.   That doesn't even mention the numerous talks the dig team have done and the countries they have traveled to to do so.
In 2014, the hard work will carry on!  The Botanic Gardens will be hosting sessions on medieval botany and how archaeologists find out what people ate,  the School of English is holding the 'Now is the Winter…' competition, we are hosting the Richard III Conference at College Court and going to the Big Bang Fair in March.  On top of this there will be more schools sessions, a badge for the Scouts, Guides, Brownies and Rainbows and more resources coming out.   And these are only things that are planned for the first term of 2014.
I am really looking forward to my Christmas break, I think I will need it to be able to manage the events of next year!
Merry Christmas and have a wonderful New Year!