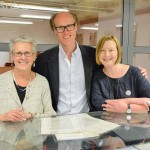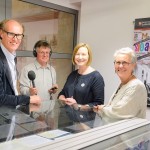 The BBC's chief Arts Editor Will Gompertz visited the University on 25 June to make a radio feature on the Leicester-born playwright Joe Orton.
For his report on the 50th anniversary of Joe Orton's first play Entertaining Mr Sloane, Will Gompertz came to see the exhibition 'Joe Orton in 1964' in the David Wilson Library.
He also looked at other material from the Orton archive, including the original script, photographs of the 1964 London and 9165 New York productions, letters, and Orton's own scrapbook of reviews.
Will Gompertz discussed the material with Dr Emma Parker, of the School of English, and Joe Orton's sister, Leonie Orton Barnett.
The feature will air on Radio 4's 'Today' programme on Friday 27 June.
'Joe Orton in 1964' runs until 29 August. A free programme of public events to mark the anniversary of the first production of Entertaining Mr Slone takes place on the 29th of June.