After studying Joe Orton's Entertaining Mr Sloane, and attending a workshop in the Joe Orton archive, held in the University's David Wilson Library, third year English student Emma Ingleton was inspired to stage the play.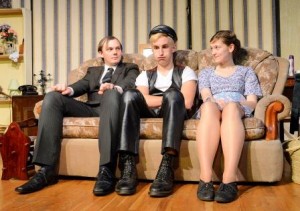 Leicester University Theatre's production of Entertaining Mr Sloane marks the play's 50th anniversary. Speaking to Rupal Rajani on BBC Radio Leicester on 17th June, Emma's co-director Alex Hatcher (a History student) said that he was proud to be putting on a play by one of Leicester's most famous and influential cultural figures. Describing Entertaining Mr Sloane as 'uncomfortable', 'shocking', and 'hilarious', Alex said that Orton's 'blistering assault' on the Establishment remains as relevant today as it was in 1964.
The play will be performed on 17th, 19th and 20th June (7.30pm, in the Queen's Hall of Percy Gee Building). Sloane is played by Ed Kaye (another English student), Bethany Carter-Bown plays Kath; Doug Deans takes the role of Ed, and Adam Unwin is Kemp.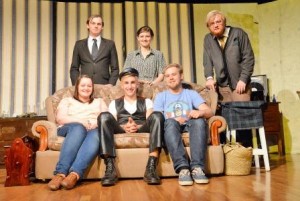 Having picked up 'a few useful tips' about the play from Joe Orton's sister earlier this year, the co-directors said that the cast was very excited that Leonie Orton Barnett would be coming to see the play.