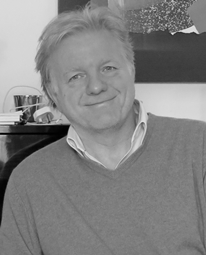 The Complete Works of Evelyn Waugh project is deeply sad to announce the untimely passing of our Co-Investigator, David Bradshaw. David had been ill with cancer for some months.
Below are some personal memories of David from members of the CWEW team.
From Barbara Cooke:
I first met David Bradshaw in 2013. We were both on our best behaviour. I'd just joined the project as a Research Associate, and was putting big efforts into looking mature and capable. David had invited me to Worcester College, where he worked, and I'd put on a decent dress and some heels for once.
This impression of smooth efficiency was a little dented over lunch, when I dropped a whole bread roll into my soup. I ignored this and David, gallantly, did likewise. We chatted about the project, which he likened to a juggernaut, discussing deadlines, funding and my role in the scheme of things. So far, so formal.
After lunch, however, disaster struck. We took coffee in the senior common room and, cup in saucer in hand, I managed to trip over a doorframe. I landed face down in front of a cheery fire and two surprised dons. There was the customary stunned silence before David helped me to my feet. And then, we laughed.
We struggled on gamely through the afternoon debating schedules, editorial boards and other serious matters, but then one of us would catch the other's eye and we'd dissolve into giggles again. I might have lost a little dignity that day, but that was probably a good thing. And I gained a friend.
As the season turns, I've been thinking a lot about David. This was his favourite time of year, and last September he told me he'd be happy if it wasn't the last autumn he saw. I almost wrote to him several times, commenting on the darker nights and chillier mornings, but it felt like tempting fate. And now he's gone, leaving us on the hottest September day for a hundred years.
Over the coming weeks, there will be many obituaries celebrating David's extraordinary critical talent and describing the hole his passing has left in modernist studies. Indeed, he was one of the cleverest people I've had the honour to know but, more importantly, he was also one of the kindest.
Even the most eloquent writers can be struck dumb by tragedy. Not so David, even when the tragedy was his own. He always had le mot juste, whether to comfort another or narrate his own demise. And he could find humour in the darkest places.
We will all miss him, very much.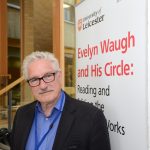 From Martin Stannard:
David and I first crossed paths on 2 June, 1995. We were both giving papers at a Centre for English Studies conference in London, 'Writing the Lives of Writers'. He was then, I think, planning a new biography of Aldous Huxley. Afterwards we arranged to meet in a pub where we talked at ridiculous length, laughing our way through most of it. I knew immediately that he would become a friend. He never changed, even when so terribly ill. Brilliant, witty, learned, intellectually subversive, he was always a joy. During his last months, emails laced with gallows humour would leave me amazed at his resilience.
Over the years before CEWEW, we would meet occasionally, and especially when he became external examiner for Leicester's MA in Modern Literature. It was fascinating to see him at work: adhering to only the highest standards, reading everything scrupulously. And then to see him over dinner: modest and funny, scrupulously downing the red wine.
One of the great recent scholars of modernism, David had no 'side'. As Chair of Oxford's Faculty of English, his ability to think both strategically and empathetically doubtless contributed towards his success, as it did when he chaired our Editorial Board: very jolly occasions under his aegis. One never left him without feeling enlivened, and longing for the next encounter. We'll miss him terribly.