If you're mad about the twenties, why not join us and Party Like it's 1929?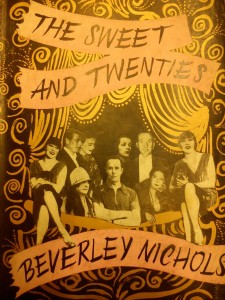 One of the most joyous things about my work as Research Associate on the Complete Works project is that it falls to me to keep the university library well stocked with all things Waugh. As well as ordering in a number of criticism works by our illustrious project editors, over the past year or so I've also been collecting memoirs of Waugh's life and times such as the Cecil Beaton diaries (recently de-censored) and Bright Young People by DJ Taylor. One unexpected find among these is Beverley Nichol's The Sweet and Twenties, first published in 1958.
Waugh and Nichols had a reasonably warm acquaintance. Nichols wrote to tell Waugh how much he admired A Handful of Dust, and when they met on the same cruise in 1955 Nichols taught the by now notoriously misanthropic author how to play Scrabble.
There was also much to irritate Waugh in the flamboyant Nichols. For one thing he was far too admiring of Waugh's old adversary Cecil Beaton, and in his own memoir Nichols comes across as an instiable name-dropper. And yet, Nichols warns us in his foreward not to take the light content of The Sweet and Twenties  too lightly, hinting at the abyss opening up for him and his young contemporaries:
…our foreward has begun to bore me as much as much as it has doubtless begun to bore you. This book…is really only a light-hearted collection of snap-shots. Let us open it. If an occasional shadow falls across the pages, maybe you will not notice it… maybe it is my eyes alone.
As well as this foreboding, Nichols also manages to smuggle stringent social commentary in between fond memories of this or that aristocrat. At one point, Nichols praises the 'death of domestic service' and declares that the loss of the kind of 'inhuman arrogance' that attached itself to the master-servant realtionship could almost reconcile one 'to living in the atomic age.'
It's this particular vantage point of the dawn of the 'atomic age' that makes Nichol's memoir so valuable. Looking back at the 1920s from the 1950s, he is able to compare the zietgeist following both the first and second world wars. In the twenties, he argues, it was possible to believe a catastrophe like the Great War could never happen again beaause it had never happened before. No such luxury was available after WW2, and so the wild optimism of the '20s had no place in the auster and disillusioned nineteen fifties.
In this year of commemoration, a view of WW1 and its aftermath that cuts through our well-developed cultural assumptions is hard to find. The Sweet and Twenties provides, if not a new view of that period, then a useful reminder that we have over a hundred years of reflection to choose from. Nothing is to be gained from limiting ourselves to "then" and "now".