Date: May 3rd, 2013
Location: University of Derby
Details: "Providing viable and flexible technology enhanced learning solutions for an increasingly agile student community". This event was hosted as part of the Higher Education Academy's Workshop and Seminar Series 2012/2013.
From the beginning it was easy to see why this event had attracted so many leaders in the fields of learning technology and the student experience – anything that can help us to identify and implement technology in an expanding and changing learning environment, where the students are often ahead of their academic counterparts, is not easy.
"The proposed workshop seeks to explore how particular technologies may afford tutors opportunities to meet the diverse learning needs of an increasingly agile student body. Building on examples of practice from within the University of Derby and outside it, the event will consider how technologies can be harnessed to provide learning solutions which facilitate more flexible approaches to learning and teaching."
Whether you're coming at this type of exploration from a Blackboard perspective, a mobile learning background, the pedagogy of the 'flipped' classroom, or just looking at how to increase your use of technology in making/helping your students gain a competitive edge in the workforce, this workshops would not have disappointed you.
Session 1: "Writing a recipe for flexible feedback" / Charlie Davis & Laura Hollinshead
To get us in the mood for a fairly active and interactive workshop we start off with group work and discussion on what is feedback, a reflection on feedback and technology used to create and/or disseminate it, a recipe for feedback/feedforward, and discussing our group recipes and how these creates flexiblity in pace/place of learning – not to mention writing on the walls!
What did we work on?
Pace/place – people can learn at own pace in their own locations and timetable, flexible in approach and style, formal or informal, study groups or lecture/seminar … mobile technology is allowing us to work outside traditional learning spaces.
Mode of learning – video, audio, text-based materials.
Feedforward – taking feedback and taking to next cohort of students to understand mistakes made to inform leaning … Or allowing students to apply feedback to next assessment (electronic feedback – audio, video, text – allows this).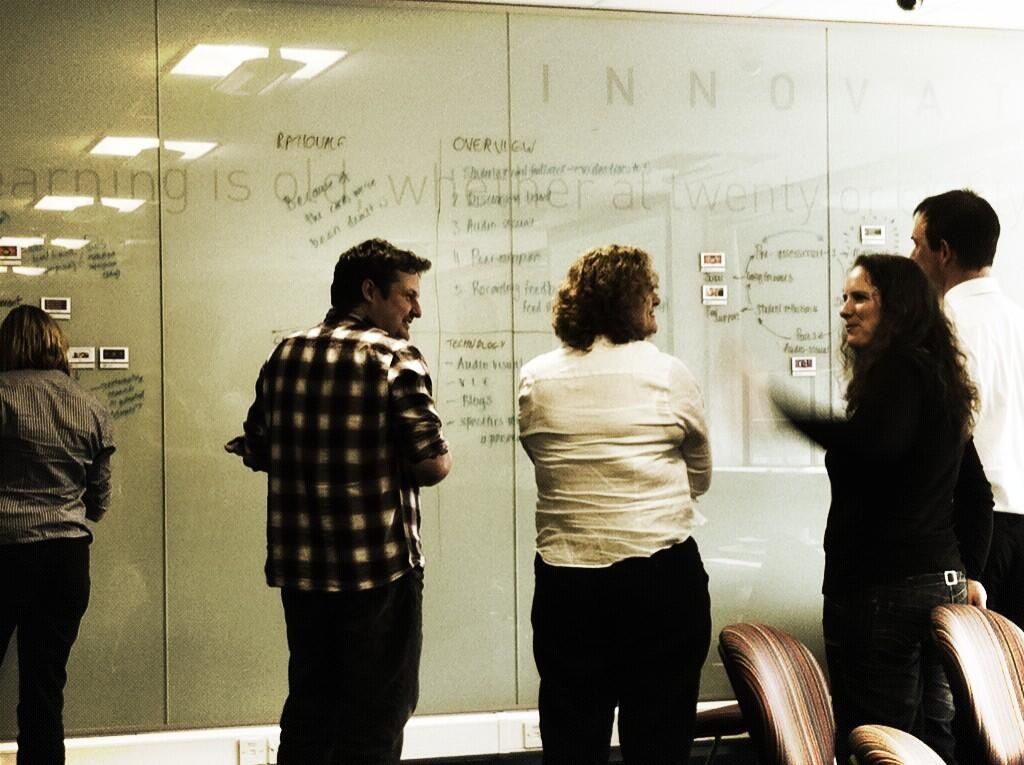 What do your students expect from feedback, and what can you expect them to get from feedforward?
Standardisation & accuracy of response, detailed and lengthy, timely (21 days), what happened, what worked, what didn't work, the mark, why marked down, how to improve grade/mark, personal comments/feedback/audio, accuracy/consistency, bargain for upgrading to higher marks(?), preassessment for progression, … if you don't link it to assessment do students see it as feedback?
Which forms of feedback/feedforward do you use already? Text, audio, video, face-to-face, feedforward, rubrics, peer assessed/feedback, self evaluation, group discussions, etc.
How have your students used the feedback? Reconstruct arguments to flow/work better, they don't, depends on type/approach of assessment,
Remember … students arrive at HE with an expectation on everything, especially assessment and feedback – how much signposting do we, or should we, give them?
And what of the 'recipe'? By using a 'Feedback loop' that takes in stages of "pre-assement, during assessment, post assessment reflection, going forward, and back to pre-assessment" we can organise ourselves accordingly. We also needed to consider where in the recipe, and in what role, technology comes. Ingredients used/available control what you can/can't achieve with recipe.
Using the cards we were given we had to arrange them into the recipe loop according to when/where/how we would use them when devising a project. There were many different interpretations of the recipe, depending on the tools given but all recipe's included a very valuable lesson: you can't ignore the face-to-face element of the project 'team' as well as the ability to be flexible in their use.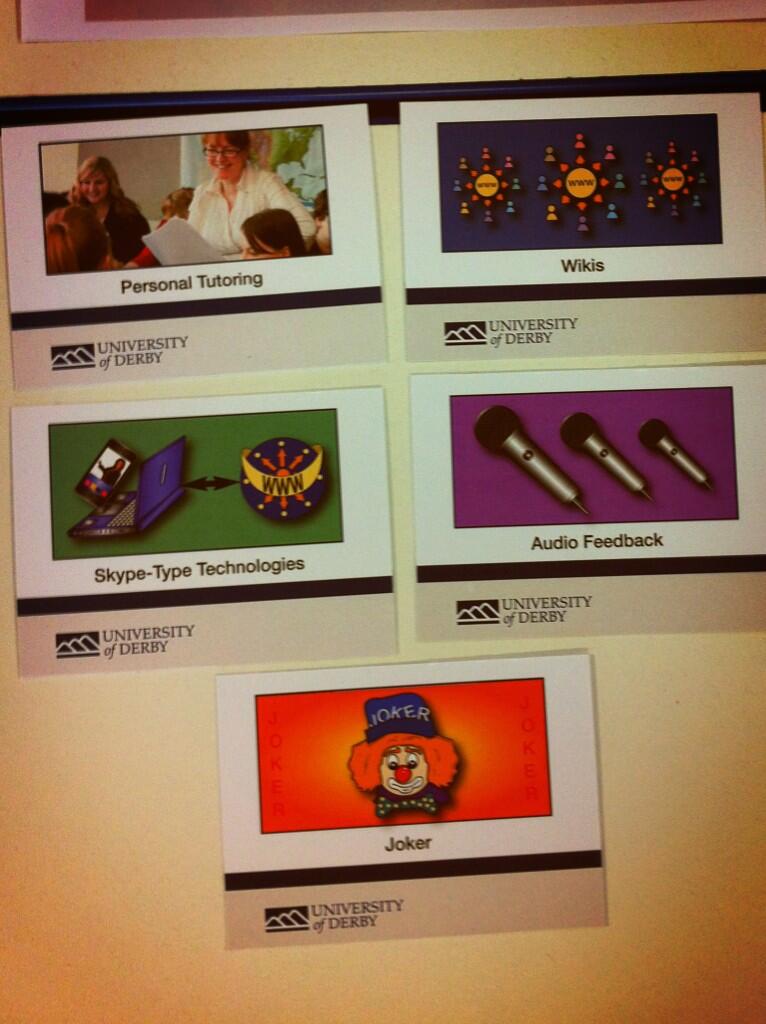 How much flexibility is built into model/recipe? Tech enables this asynchronous learning / support / engagement, enabling whatever is quid, whenever it is required. Support must be appropriate for both staff and student, and must be both technical and pedagogic to enable growth and feedforward methods, however simple or advanced the tech/pedagogy is. Engagement is essential, especially on feedback, so signpost how/when it comes, how up to use it, what it means and how it can be used (feedforward?).
Session 2: "Flipping the classroom: do students engage?" / Dr. Simon Lancaster

From Simon Lancaster (UEA / University of East Anglia) we learned the power and value of the network as well as the requirement to be flexible and innovative in order to address and meet the need of modern students in a very technologically-rich environment.
Flexible learning & teaching, including how we approach it and the tools we use.
Twitter is important in flipping the classroom / learning – engagement, collaboration, inclusion (exclusion), etc. important for furthering personal interest in subject/topic, and broadening horizons. Using Storify to collate tweets into archive, great for hashtags and / annotations from event, workshop, class, etc.
Podcast & Screencast – record, release, and (re)use. Great for all involved: stop, restart, share.
QR Codes (online) link to (offline) resources … Link between physical lecture notes and online screencast. Can be used proactively or retrospectively to engage and inform.
Strengths and weaknesses linked to the use of recorded screencasts (note: not recorded lectures):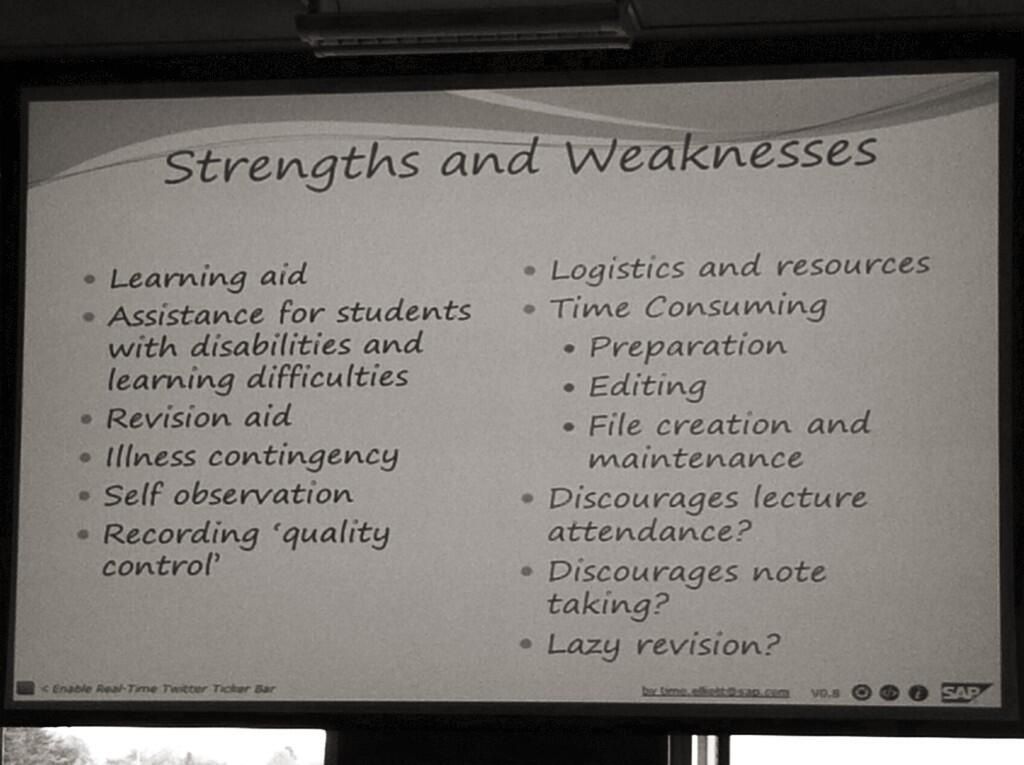 HE
Student-produced presentation, why not record as well, then learn pedagogy of presentation design & question, create learning resource on authored creation.
Flipping : take content and deliver in advance, use time together to discuss / debate / engage / challenge students without reducing contact time – make it more applicable and more valuable!!
Genuine student evaluation comments on flipped classroom – 5 and 7 most important (bel0w), but all are genuine comments made about the use of screencasts from UEA)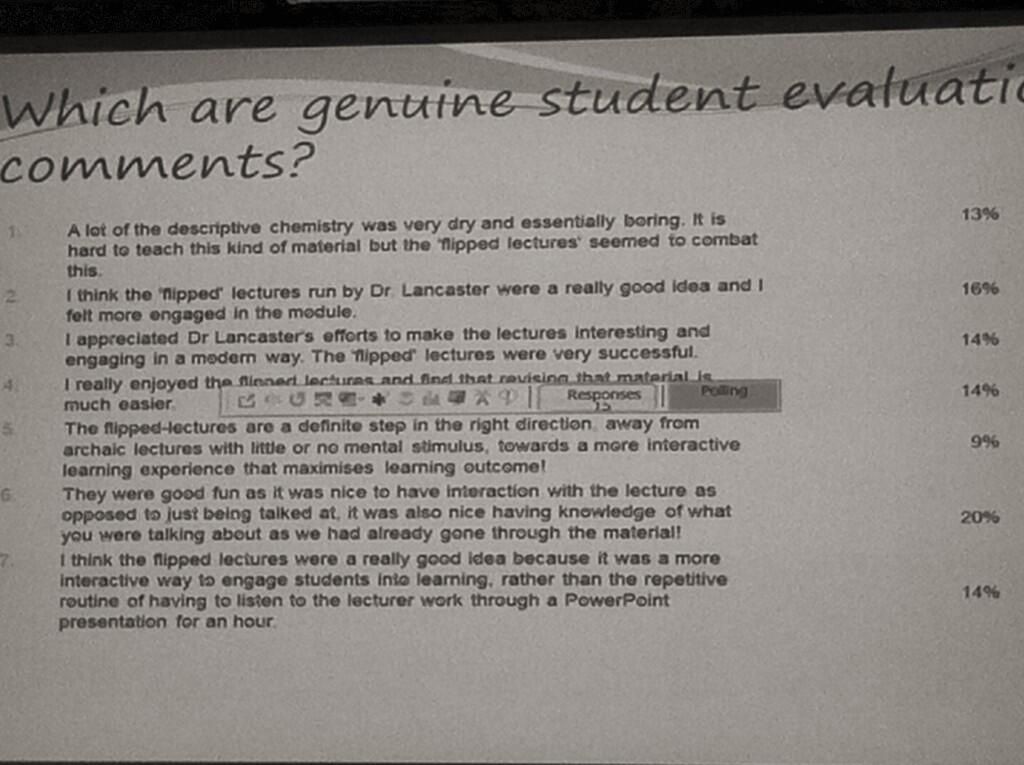 Control relinquished over content by flipping the classroom means you don't know who, or how students, engaged in materials, if at all.
Session 3: "Using Google Apps to provide flexible online learning spaces" / Gary Wood & Sarah Horrigan

Using Google services for students and student project work is something that not all Institutions would recommend (or even allow) but the way Gary and Sarah used Google Docs, Sites, Apps, Hangouts, etc. here was excellent. What's better than that is the student feedback on their work and how they immersed themselves in the tools to get the best results (and often exceeded the teams expectations).
Real enrichment, real engagement, real projects – http://allaboutlinguistics.com/
Google Apps & building website as part of assessment in core linguistics module.
Google Sites for website, straight forward to set up and control for students and without anyone needing to be experts Web designers (WYSIWYG wonders). All pages created in advance for students to fill, page control allowed all students of view all pages, but locked individual pages down for editing to specific students. Students ended up creating more sub-pages for their particular section of the linguistics website.
Google Docs used for project management and document and version control.
Google Hangouts used for out of term-time collaboration.
Google Forms for launch event and delegate details (incl. sign-up).
Benefits … Academic = increased student control (creativity and motivation), real project (enthusiasm), trouble-free group work (Google Apps facilitated this easily), collaboration within & between groups (raising standards).
Benefits … Students = Continuous feedback and assessment as project/assessment visible throughout whole project lifespan. Students developed key skills that are transferable to workplace and employability. End product (website) directly relevant to diverse audience. Suite of apps don't need teaching and are reasonably simple and intuitive to use, just need signpost to what / where they are and what you can use them for.
Final thought from Gary/Sarah's session … "Empower students with tools and freedom and trust and opportunity they will show you how awesome they can be."
You can follow/ read the Twitter tweets on Sarah Horrigan's Storify archive.
From the workshop I gained a fuller understanding that there are far more options available to us than we realise, that we have the ability and imagination to try new things (even if they're not innovative, we can just try the same old tools in new ways), that we don't have to stop trying, and that the students are our best (and sometimes worst) critics but, when used, engaged, and consulted with, can also help drive and direct us in ways we hadn't imagined.