The Retention Centre acts as a hub to allow you to check how your students are engaging with Blackboard, and to spot those that might be at risk of falling behind or struggling with the work.
The Retention Centre can be found either under the Evaluation section of the Control Panel, or from the Global Navigation button, at the top right of the screen.
There are default rules to flag up things such as late submissions or lack of activity, but you can change these rules to suit your classes, such as the grade level that triggers an alert.
The control panel opens the Retention Centre for the Blackboard course you are in. The global menu opens a list of all of the courses where you are an instructor.
On opening the Retention Centre for a particular course you will see a grid with the alert criteria:
Missed deadline
Grades Alert
Activity Alert
Access Alert
 Click the red bar to see a breakdown of the different categories of alerts. You can drill down into a student's cell to see more information about them by clicking the red button on their cell.

You can then contact the student directly, and choose to monitor them.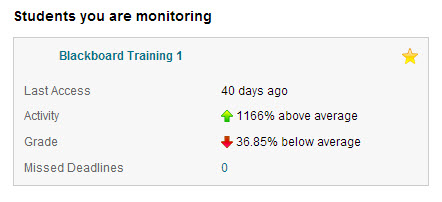 If you click on the student's name you access their retention centre page. You can view their risk factors, any emails you have sent to them, and you can read and create notes related to that student. Notes might include details about any one-on-one meetings, any accommodations for disabilities, or language barriers, and so forth.
The Your Course Activity section has details of how you have been using the course, and perhaps get some insight into how your activity may have affected student risk factors. You can also easily access communication tools from here, or open assignment to begin grading.