Last week I attended a 3-day workshop regarding the techniques and practice of creating photofilms.  This followed from the requirement within my Jisc funded Transformation project to produce what they call a digital story.  This was the subject of a previous blog.  On that occasion whilst I had plenty of ideas I had to employ someone (thanks Andy) to bring along their skills and equipment and to turn those ideas into the 4 minute story – what research data management means at Leicester.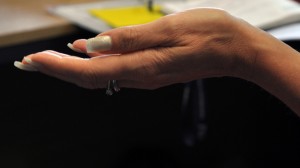 The test of the workshop was, a) whether I would still think producing short 'digital stories' has potential as an accessible means of communicating the joy of research – 'why does this subject mean so much to you?', 'In a sentence what do you hope to achieve and why is that important?' etc. etc., and b) is it possible to teach a complete novice the theory and practice in 3 days to allow them to walk away able to plan, organise, create appropriate good quality images and audio, edit and pull the material together to deliver a digital story.
The answer to both, happily, is yes.
Discussing my perspective with those running the workshop, there was agreement that this does have potential for wider application, and within HE research specifically (a).  They are keen to look at this further.
In terms of skills and techniques… to my huge surprise… by 5.00pm on the last day I, along with my team-mates was able to present our photofilm (the term being used rather than 'digital story').  This really was a challenge as I was in a group of film-makers, journalists and photographers (when you realise your fellow attendees are photographers for the Times, have worked on Avatar etc. it does make you think).
The second day of the course (leading to a sleepless night before it) was the real challenge – without any preparation at all, to go to Covent Garden, find someone there who had an interesting story to tell, and was a good communicator, interview them, collect an ambient soundtrack, and take a range of images to complement the story (action shots, portraits, details shots etc.).  Having done that (in the rain, and annoying a number of people in the process), we then spent a breathless third day constructing a story and using various software applications to edit audio and images to produce the photofilm.  I was fortunate to work on this with a journalist and a photographer.  We all decided to get into the spirit of learning by taking unfamiliar roles.  I became a photographer and audio editor as a result.
We realised the extent of the challenge after spending an hour or two debating and editing the vital first sentence and image.
Putting creative differences to one side we, and all the other teams produced what I felt was some really interesting work.  Our story was that of a 'Chugger' (street charity fundraiser) who rather than stress the difficulty of the job taught us all something about positivity and we felt we had achieved something when others reacted by saying that their attitude had changed through that short film.
In conclusion I am really grateful to all those who attended and taught me a lot, and to all at DuckRabbit who ran the course.
The next step of course is to put this into practice.  Anyone who has a story to tell and may want to work on a photofilm, then let me know.