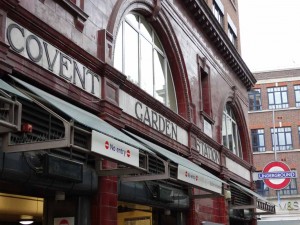 I achieved a moment of quiet satisfaction this week having, several months after the event, revisited and completed work I started during a three day photofilm course.
During the course a photographer, a journalist and myself (slightly different skill sets there) where dropped (not literally) into a drizzly Covent Garden with the mission of capturing the raw materials to generate an effective photofilm.  This was to be a 3-4 minute production, based on a) an interesting subject with an interesting story to tell, and b) using photographic images, local sounds, and interview recording.  Approaching someone on a busy, wet London street and convincing them to give up their time and privacy was a challenge in itself.  Without any pre-planning the question was then, why a particular person, what was the story, why would anyone listening be engaged?  That was before any of the technical stuff.
Our subject was the story of a charity fundraiser – a much maligned Chugger.
During the course I really enjoyed turning my hand to photography (with advice from the professional photographer), and then to audio editing – using a 25 minute interview as a basis for a much shorter, story, and then both layering on ambient sounds, and removing what wasn't needed etc.  It was a challenge as due to circumstance all the images had to be produced before we could do any interviewing and learn something about the subject.
The result we produced during the course was a one minute version of the film and it received a really positive reaction.  That was particularly satisfying as the room was full of professional journalists, photographers and film makers (one of whom worked on Avatar etc.).  Our approach had been to take no posed photographs and instead focus on "live action" – detail, scene setting shots, human interaction, emotion etc. – a difficult approach.
This week starting from scratch I set about producing a four minute version of the photofilm.  This resulted in a different story, different audio editing and images, sequencing etc.  In itself that was interesting, finding out how different the two exercises were i.e. a one minute film versus a four minute film.
Unfortunately I can't share the film openly – we agreed that it wouldn't be for broadcast as a condition of involvement (the charity wouldn't allow it), but if anyone wants to view it then let me know.
However yesterday I came across a blog post by the company who ran the course (Duckrabbit) where there was discussion about the contrast in styles and effect between a couple of films.  One is based on visual brilliance and all things slick – http://www.youtube.com/watch?v=SJn64kkpOSc (8m hits on YouTube).  Another is a film (using video rather than images) which tells a story – http://vimeo.com/82587657
The latter is the sort of approach we learnt with the intention of bringing into our work. In my case I think it is a technique for effective communication about research – demonstrating some of the passion that goes into it, which you can't pick up from a report.