Join the team at the National Space Centre for their next Space Lates event, looking at the largest planet in our Solar System, Jupiter.


Space Lates is an evening created for people who want to know more – those who have an interest in astronomy, space missions, and the exciting research happening here in the UK, around the world, and out in space. We've curated a special evening packed with guest speakers, interactive workshops, planetarium shows, stargazing, and live demos. Explore our galleries after-hours and finish your evening with a live astronomy session with Leicester Astronomical Society (weather permitting).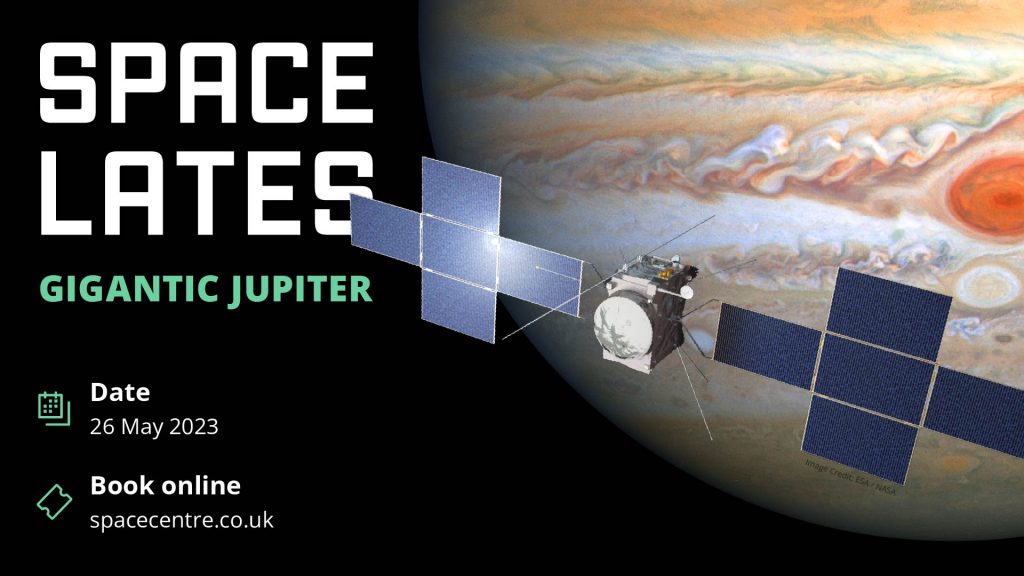 Tickets
General admission: £8
Add food & drink from £3.50
Book here: https://spacecentre.co.uk/event/space-lates/


Guest Talks
Introducing Jupiter with Anna Gammon-Ross – Royal Observatory Greenwich. Anna will explore how the planet came to be, what we've learnt about its conditions and features so far, and the many natural Jovian satellites.
Exploring Ocean Worlds with JUICE with Prof Emma Bunce – University of Leicester. As the Co-Investigator for the JUpiter ICy moons Explorer (JUICE) mission, Emma will share the challenges of a mission to Jupiter.
Jupiter's Spectacular Auroras with Dr Jonathan Nichols – University of Leicester. Jonathan will share how our understanding of Jupiter's enormous magnetosphere has been shaped by the Juno mission and Hubble Space Telescope observations of its spectacular auroras.


Activities
Planetarium Show: Tour of the Summer Night Sky.
Create your own colourful stormy gas giant planet with marble inks.
Exotic Extremophiles. Is there anyone out there? The best way to answer this question may be to look first at life on Earth.
Join the night sky experts from the Leicester Astronomical Society for a session of star gazing (weather permitting).