Join the National Space Centre's "Space Lates" (25 March, 18:00 – 21:00) to discover more about the UK Spaceports set to launch later this year. From understanding why they are where they are, what they are launching to what does this mean for us here in the UK. Come along to hear from industry specialists from across the UK.


We've curated a special evening packed with guest speakers, interactive workshops, planetarium shows, stargazing, and live demos. Explore our galleries after-hours and finish your evening with a live astronomy session with Leicester Astronomical Society (weather permitting).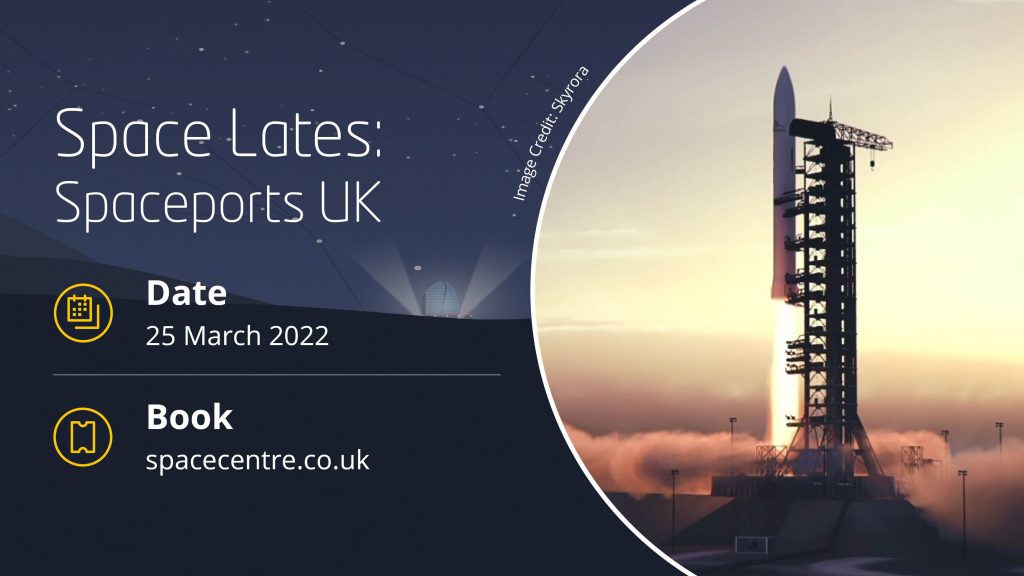 Guest Talks:
Skyrora and Spaceports: A Story of Environmental Launch – Rosie Hull, Skyrora
Skyrora is set to launch the first rocket from UK soil. With plans for spaceport development being made across the country, the potential environmental effects of rocket launch are becoming a prevalent consideration. This talk will cover how Skyrora has influenced spaceports through our pioneering efforts towards environmental launch, as well as how spaceports may affect our daily lives here in the UK


The Role of Spaceports in the UK: Beyond Launching Rockets – Dr Mason Robbins, SaxaVord Spaceport
Find out the importance of spaceports in the UK in terms of, education, sustainability, innovation, and collaboration beyond the launch and data collection. This is an overview of our/UK spaceport/s what it is, and the transition into the broader role of the spaceport and its partners not just in the UK but around the world.


Testing for Space: What happens when your spacecraft breaks down? – Vicky Hall, RAL Space Engagement Officer
At RAL Space, the UK's national space laboratory, we test space-bound hardware to ensure it can survive the journey and its lifetime in space. Take a virtual tour inside our labs and follow the processes we put satellites through to help certify them for flight. Try out our mini shaker and submit your own designs for vibration testing to see whether it would survive a rocket launch.


Planetarium and activities:
Tour of the Winter Night Sky
Join Chloe, from our Space Comms team, in UK's largest planetarium for a tour of the night sky. Look at the UK- and ESA-built satellites that help us understand space.


Satellite Vibration test
Create 3D models of a rocket nose cone and test it on RAL spaces mini vibration plate. Can you create something strong enough for launch


Meteorites under the Microscope
Join our presenters to find out about some of the oldest rocks from space, take a look under the microscope and hold a piece of space history.


From the Vaults
Take a look at some special artefacts from our Vaults, these items were once launched here in the UK.


Stargazing
Join the night sky experts from the Leicester Astronomical Society for a session of star gazing (Weather permitting)


Tickets cost £8 and you can now pre-order food and drink too. Book here: https://spacecentre.co.uk/event/space-lates-spaceports-uk/