Professor John Bridges is a Professor of Planetary Science in the School of Physics and Astronomy. An experienced researcher; Prof. Bridges has worked on many missions including ExoMars, and has analysed some remarkable meteorites. As well as this research, Prof. Bridges is involved in teaching and supervising research projects, together with the Foundation Year.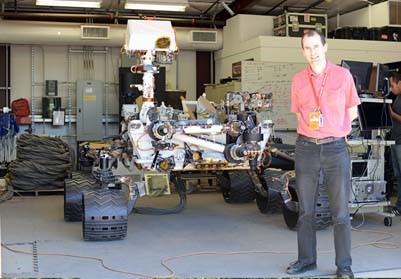 What is your official Job Role?
Professor of Planetary Science.

Can you briefly describe your role within the School of Physics and Astronomy?
I research the evolution of Mars and the early Solar System via analyses of planetary materials and remote data from space missions. This ties in with my teaching of options and research, together with the Foundation Year.

What made you want to start on this career path?
I remember drawing a Saturn V rocket in a typically over-ambitious project as a primary school pupil, entitled Space and the Origin of Man. This was no doubt stimulated by the Apollo 17, Apollo-Soyuz and Skylab missions of the 1970s that I saw on TV. We also had a back garden telescope and I always enjoyed looking at rocks with my father as well. But in terms of research, I started working on planetary science when I got a job at the Natural History Museum. I was soon absorbed by the possibilities.

What made you choose Leicester/what's your favourite thing about working at Leicester?
Leicester is one of the few institutions in which you can work from science exploitation to mission planning, to building instruments, getting them flown, and back to science exploitation. It's a great strength of our university and one that attracted me to it. My first major involvement with Leicester was via Beagle 2. That was the mission that made me realise what might be possible in planetary science during my career – I didn't just have to learn what other people had done, I could make discoveries and be part of new missions myself. As we are a research intensive university I was able to get on with building up my research career. Since coming to Leicester I've joined Mars Science Laboratory, the HiRISE and CaSSIS cameras, ExoMars, the Stardust mission, Hayabusa 1 and 2, and analysed some remarkable meteorites. Although I didn't fully appreciate it when I joined, the National Space Centre is also a fantastic asset for space education in general that I have hugely enjoyed helping with. Giving a live talk to a National Space Centre audience on landing night for Mars Science Laboratory is definitely a highlight for me.

If you could give your former self one piece of advice what would it be?
It's hard to predict what the world will be like in 30 years time. Persevere and take opportunities when they arise, but you must be prepared to adapt.

What is your favourite thing to do outside of work?
If forced to pick one favourite thing it is probably to be out and about walking, hillwalking or cycling. I am still slowly ticking off the Munros. Luckily they will always be there, so there is no rush I tell myself.

Do you have any interesting hobbies/collections?
I have lots of OS and other maps (too many in some people's opinion!)

What is your proudest achievement (doesn't have to be work related)?
I have been lucky to be part of many new discoveries of one sort or another but perhaps one sticks in my mind here because it was of interest to a wide range of people, and not just my fellow planetary scientists. In 2014-15 we reviewed a range of HiRISE camera images we had taken over the suspected landing area of Beagle 2 on Mars. Through examining the area with repeat imaging under different illumination and colour conditions we realised that we had found the lander, intact, but silent on the planet's surface. I thought that would mainly just be of interest to the mission's team members and a few others but in fact it created enormous interest among the wider community who had followed the fate of the mission.

I also like seeing my PhD students go out and about and succeed in whatever they choose to do. For instance, some of my past students have worked at the Johnson Space Centre, Lunar and Planetary Institute, Chinese Academy of Sciences, Carnegie, JPL and across the UK and Ireland.

If you had to describe yourself in one word what word would you choose?
One of my retired ex-colleagues at the Natural History Museum once concluded about me that I was always keen to learn. I would be perfectly happy with that.
---

If there are any members of staff you would like to see highlighted in these segments please email Ejb71@le.ac.uk