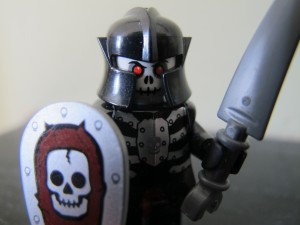 I've always been drawn to the darker and more unpleasant aspects of human nature. Ever since early adolescence I've been fascinated with horror fiction and film, and moved on from this to an interest in the 'nasty' parts of history, and to psychology – trying to understand what motivates people to commit acts of 'evil'. Over the years I have been able to channel these interests and curiosities into my career in academia. And I am clearly not alone in being drawn to this darker side of human nature, as death and horror continue to be prominent themes in popular culture. Why are we so fascinated with cruelty, 'evil' and atrocities? What psychological purpose does it fulfil in our lives?
Attraction and interest in the macabre is by no means a new phenomenon; from gladiatorial contests, bear baiting, public executions, the visitor trade in 'lunatic asylums' and prisons, etc. humanity has always shown a morbid curiosity in death, the mad, the bad, and the 'deviant'. But I question whether the search for weirder and more macabre, 'darker' experiences are becoming more and more mainstream. Take, for example, the recent growth of interest in 'dark tourism' – to paraphrase Phillip Stone (2006) – the travel to sites of death and suffering. Why do so many of us want to travel off-the-beaten-track to visit places where the most awful events have occurred? Sites, for example, of high profile crimes, assassinations, and murders, or of terrorist attacks, natural disasters, of former penal colonies, prisons, and even sites of genocide. The higher the death toll, and the crueller the deaths, you could argue the greater our fascination in the atrocity becomes.
I'm also interested in who we label as 'evil' and why, and the process of de-humanisation that accompanies such labels. How do we understand atrocities and the perpetrators of such atrocities?  And significantly, what does this construction of knowledge tell us about ourselves, about the society in which we live, and in humanity itself?
Our tendency to demonise those who commit crime, especially those who commit certain types of crime, has obscured our understanding of them. By placing them outside of humanity we dismiss them, remove them from sight and mind, and are able to feel less threatened by their behaviour. But those who commit even the most awful atrocities are often more 'like us' than we would like to believe. This 'banality of evil', to coin Hannah Arendt's famous phrase, is psychologically uncomfortable. Given the right circumstances and 'triggers' are we all capable of committing 'evil'? Is it time we confronted the human potential for cruelty within all of us?
I've spent the past few months developing a research network to explore questions such as these. Questions that are fundamental to understanding humanity, and human history, and that span across a range of academic fields. Although still in its early stages I hope that this network will be a forum for debate among researchers interested in these questions. And with the website to be launched any time now, I've started this blog to stimulate my own ideas… as well as to document my current research into the role of the Holocaust memorial (in particular those situated at sites of former concentration camps) in representing and remembering the Holocaust.