Is antibiotic overuse compromising the efficacy of current drugs? Are we going to run out of effective antibiotics? What interdisciplinary approaches may be useful for addressing the problem? These were some of the questions tackled at an international workshop at University of Leicester on 4th and 5th October this year.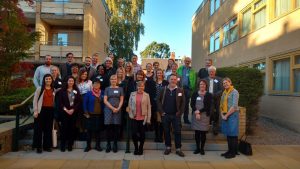 The focus of the workshop was on theory and practice in optimising antibiotic use in hospitals internationally and was the culmination of the AMiRe project—funded as part of the UK Research Council's 'Tackling AMR' initiative—which investigated attitudes to antibiotic prescribing in England, Sri Lanka, and South Africa.
During the two-day workshop, 50 delegates shared perspectives from a range of disciplines – social sciences, psychology, microbiology, infectious diseases, philosophy, medical anthropology and political science. The first day of the workshop concentrated on international and contextual factors influencing prescribing, and the second day was focused on the application of social science theory to the problem of antibiotic overuse.
Our distinguished keynote speakers on day one were Alex Broom, Professor of Sociology, at The University of New South Wales Sydney and Clare Chandler, Associate Professor in Medical Anthropology at LSHTM. Alex Broom discussed a wide range of social factors influencing antibiotic prescribing, using powerful quotes from his extensive qualitative research in Australian hospitals. A particular highlight was seeing the engaging comic-style animations he has produced to provide feedback on inappropriate prescribing attitudes and misconceptions. Clare Chandler gave a fascinating presentation outlining sociological perspectives on antimicrobial resistance, including the framing of antimicrobial resistance as a threat to modern medicine, and raised provocative questions around whether we need to prepare creatively for a future without antibiotics. David Jenkins, Nelun Perera, and Shaheen Mehtar described the characteristic features of antibiotic prescribing and efforts to promote stewardship in the UK, Sri Lanka, and South Africa. These talks provided context for our discussion of findings from the AMiRe project, which highlight how antibiotic use is shaped by local and national context.
On day two Carolyn Tarrant and Andrew Colman drew attention to social dilemma theory and game theory, which have the potential to be used to conceptualise the conflict between individual and society inherent to antibiotic prescribing. The value of this theoretical perspective was reinforced by presentations from colleagues from the University of Gothenburg, led by Sverker Jagers, about their research on antibiotic resistance as a collective action problem. Edmund Chattoe-Brown also discussed the novel application of agent-based modelling to the problem of antimicrobial resistance.
The workshop demonstrated the insights that can be generated from taking an international and multi-disciplinary approach, and as part of the workshop we asked delegates to answer four questions around the future for interdisciplinary research into antibiotic use. Key responses are summarised in the table.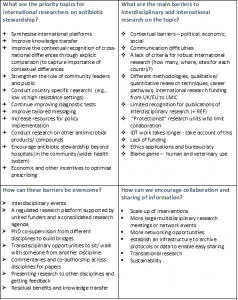 It will take decades of continued research to address theproblem of antimicrobial resistance. If we aim to optimise antibiotic use as part of this endeavour, we need to understand the contexts within which individual prescribing behaviour occurs, and provide support for the doctors and other healthcare staff who are tasked with the challenge of optimising antibiotic use through balancing the needs of society with the needs of their patients. Social science theory prompts us to think about the problem of antimicrobial resistance in new ways, and provides a basis for approaches to help shape our future use of antibiotics.