Too often debates about 'best practice' in healthcare are held in remote forums, inaccessible to the people whose lives they impact because of physical distance, expensive paywalls and subscription policies, or unintelligible jargon. I was therefore delighted to read Abraham Verghese's 2009 novel Cutting for Stone and find it dealing with issues of medicine, healing, and person-centred care in an interesting, engaging, and accessible way.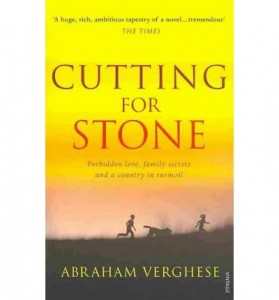 The novel, which is set both in Ethiopia and the USA, tells the story of twin brothers, Marion and Shiva Stone. Marion who narrates the novel recounts the twins' birth, their upbringing in and around the Mission Hospital in Addis Ababa, the romance that tears them apart, their medical training, and his own eventual flight to the USA as a result of the political instability in Ethiopia. The story is filled with medical characters, from the twins' adoptive father Ghosh, a talented diagnostician, to Deepak a surgical resident struggling against the system to finish his training, and crowded with descriptions of medical diseases and surgical procedures. But the novel's portrayal of medicine is far more than skin deep.
It is impressive that a novel in some ways so old-fashioned, a sprawling cross-cultural epic tale, effectively cuts through to the heart of one of the most crucial modern medical debates: what is healing? How do we best do it?
Verghese answers this question emphatically: with kindness.
At the moment of their reunion Marion attends a lecture given by his father, who asks a question only his son knows the answer to:
"What treatment in an emergency is administered by ear?"
"Words of comfort."
This motif, referenced at other moments throughout the novel, expresses Verghese's desire that medicine must deal with more than just practicality, with drugs and statistics and technical brilliance. It must be about care and consideration as much as cure.
To care for people, and for patients, is to care about them, which in turn is to take the time to notice them. Truly seeing someone does not come naturally, in any context, it is a skill which takes time and effort.
Verghese emphasises this through Marion's early introduction to the world of medicine at the hands of his adopted father Ghosh. This initial medical training begins with a physical examination, with feeling a pulse, with observation. Marion describes the sensation of a surging pulse under his fingers, and the joy of the medical realm that it introduced him to:
"He invited me to a world that wasn't secret, but it was well hidden. You needed a guide. You had to know what to look for, but also how to look."
The importance of this aspect of medicine and healing is reflected in the recurrence of failures of observation, of missed signs. Verghese's story is deeply concerned with what is seen and what is not seen, with the danger of mistaken assumptions. Consistently characters pay a high price for not noticing what is right in front of them, beginning with pregnancy of the narrator's mother in the opening pages of the novel. It goes unnoticed by both her lover and her colleagues, resulting in a dangerous delivery and her eventual death. The novel makes this point repeatedly: in medicine and in life perceptiveness is a valuable and vital skill.
Verghese has devoted much time to promoting a culture that is alert to physical signs beyond the realm of fiction, through both academic publications and the development of the innovative 'Stanford 25' program, designed to demonstrate and teach 25 technique-dependent physical diagnosis manoeuvres. These are extraordinarily valuable contributions but it is important not to underestimate the significance of Verghese's clear and comprehensible fiction and its ability to present complex debates outside of an academic context. Depicting medicine through the lens of fiction can be a reminder that healthcare is always fundamentally about people, rather than theories or procedures, something which Cutting for Stone never forgets.
Further Reading