Earth Observation (EO) experts from the University of Leicester have highlighted the correlation between land surface temperatures and drought-affected areas of the United Kingdom using data captured from space.


Leicester scientists working in the National Centre for Earth Observation (NCEO), headquartered at Space Park Leicester, have mapped measures of land surface temperature during the current heatwave as measured by the pair of Sentinel-3 satellites in orbit more than 800km (500 miles) above Earth.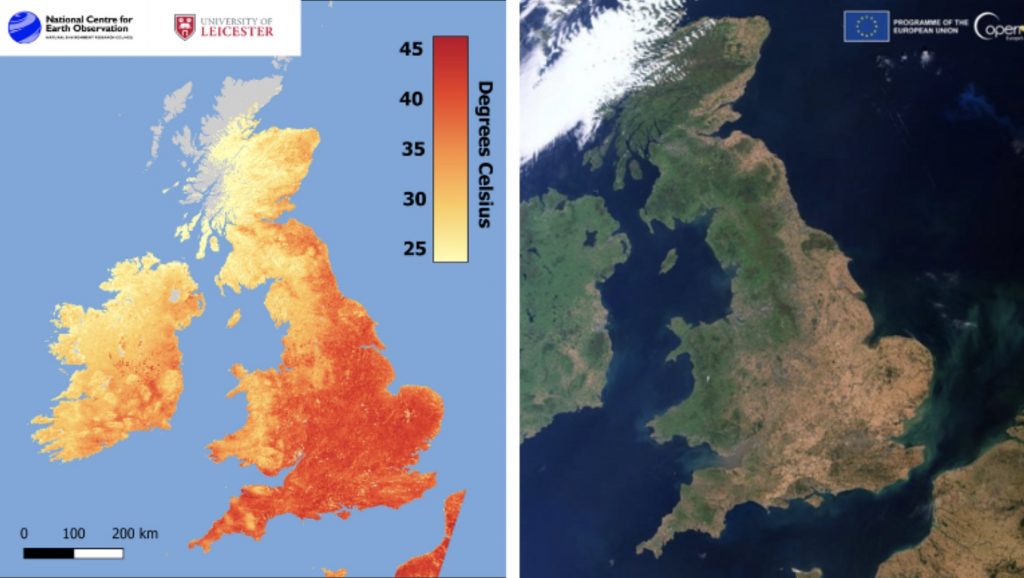 Their latest map shows the temperature of the Earth's surface at approximately midday on Thursday 11 August, as seen by the satellites' Sea and Land Surface Temperature Radiometer (SLSTR). The satellites are operated by the European Space Agency (ESA).


The highest recorded land temperature topped out at 47.8°C, in Lakenheath, Suffolk, with parts of London experiencing temperatures around 46°C. Across England, many areas affected by drought and urban areas experienced 'high end' temperatures between 42 and 46°C


The latest image, coupled with another image from earlier in the week highlighting areas of drought in the UK, show that, in this particular case, higher land temperatures suffer more from drought conditions.


Areas in the UK hit by drought conditions include swathes of land from the South West and South East, through to the Midlands and East Anglia.


A drought is simply a lack of water. The Environment Agency decides when to declare a drought in England, but it does not use a singular definition of a drought.


On Friday 12 August, the Agency declared drought in eight of its regions: Devon and Cornwall; Solent and South Downs; Kent and south London; Hertfordshire and north London; East Anglia; Thames; Lincolnshire and Northamptonshire and the East Midlands.


An Agency spokesperson said: "We don't use a single definition for drought so whilst it's caused by a period of low rainfall, the nature, timing and impacts on people, the environment, agriculture or business will vary.


"Some droughts are short and intense like a hot, dry summer, while others are long and take time to develop over multiple seasons."


Land surface temperature is a separate measure to ambient air temperature, but the two are fundamentally linked. The warmth rising off Earth's landscapes influences (and is influenced by) our world's weather and climate patterns. 


Urban areas, in particular, are prone to higher land surface temperatures. These 'heat islands' occur because the increased concentration of concrete, buildings and other dense materials absorb and retain heat at a higher rate than natural land cover.


Dr Darren Ghent, NCEO Leader and Research Fellow for Land Surface Temperature, said: "Space-based observations of the temperature of the surface of the land offer unparalleled knowledge of the spatial structure of these heatwave events.


"The image of the UK from Thursday shows land temperatures as high as 47.8°C, in Lakenheath, Suffolk, and it's plain to see that where land temperatures are highest, those areas are most affected by drought."


The NCEO processes and analyses vast quantities of data generated by satellites, as well as by aircraft and ground-based assets to monitor and understand global and regional changes.Headquartered at Space Park Leicester, the NCEO is a UKRI-NERC research centre with more than 130 scientists located across partner UK universities, including many at the University of Leicester.