Karin Li
Hello my name is Karin. My background is in Art Museum and Gallery Studies. I am interested in art and history. I started volunteering for the Sounds for the Future project in October 2022 and now work as a library adviser for Archives and Special Collections.

Subscribe to Karin Li's posts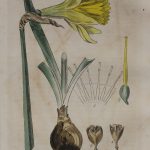 Posted by Karin Li in Library and Learning Services on May 12, 2023
As the University has announced an exciting programme of Summer events at the Botanic Gardens in Oadby, we explore the art of botanical illustration through our Special Collections.
Posted in Archives and Special Collections | Tagged collection highlights, rare books | Leave a response