DU: As a first question, what drew you into cartooning?
VK: I am a professional cartoonist and work for some newspaper and magazines in Ukraine, France, and Switzerland. I am a political cartoonist, a social cartoonist, and sometimes a funny cartoonist! There are very strong political situations in my country and the goal for me was to create love, peace, and happiness for people with my cartoons. This is what drew me into cartooning.
DU: Why do you share your cartoons?
VK: As I said, some of my cartoons are funny, some are political. For me, the political cartoons are very important and this is what I do to help bring peace to society. Political cartoons are needed to fight very bad sins – for example, against wars and many other issues like Coronavirus.
DU: Who is your target audience and how are you certain that your work is going to reach your target audience?
VK: I prefer when my cartoons are seen by many people, of course; I am happy now that I am working for a magazine in Ukraine where my cartoons can reach many people. The same cartoons have also been published in France and Switzerland, which makes me happy as it suggests my message is being passed globally. With my cartoons I took part in some international competitions, and I won some prizes; I see this as my cartoons reaching my audience and being understood by my audience. My work has reached America, Africa and it is understood by people there too; some of them cannot read but still understand my cartoons. I aim to give my cartoons an international audience as cartoons are international leverage.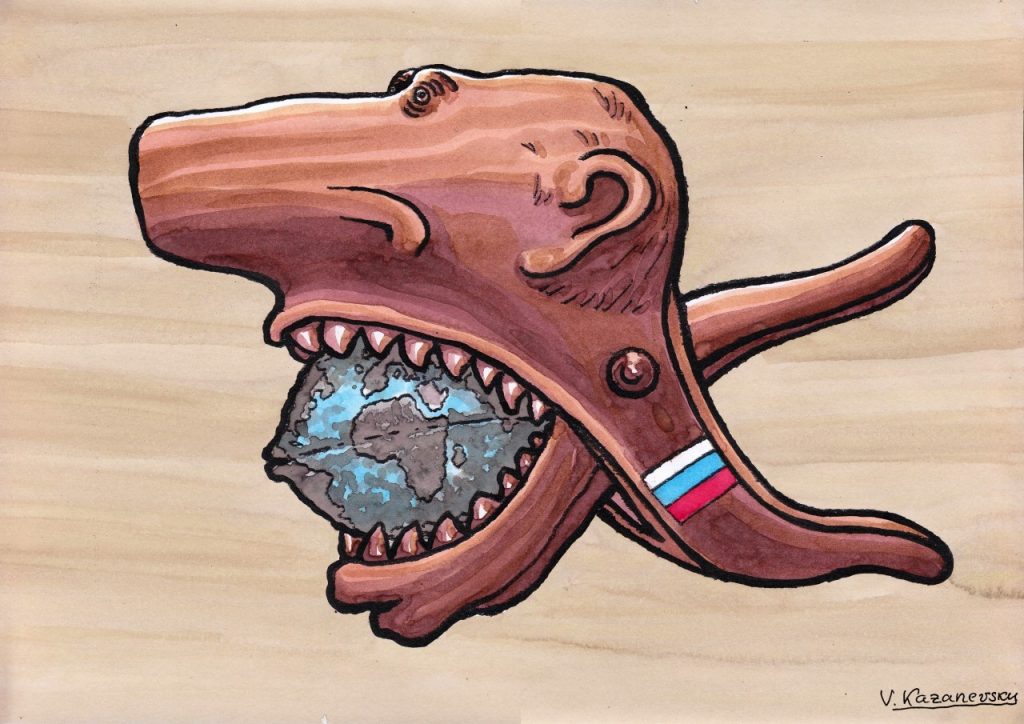 DU: Since freedom of speech in less democratic countries can sometimes backlash, is this an issue you have faced in your career? Did your profession ever get you into trouble in Ukraine or beyond?
VK: Cartoonists have problems with people in power everywhere. Some cartoonists in Turkey or Iran are in prison due to a controversial cartoon being published somewhere. My country is a very interesting case. For example, I am working for a magazine with no censorship. No chief or manager of the company has told me what to draw or what not to. I draw my cartoons as a free cartoonist and all of my cartoons are published. One hundred per cent of my work will be published in the magazine and people will see what I draw without censorship.
Sometimes I only spend one hour on my work, which is not good as it is not enough time to reflect and decide if something is a good or offending piece. As an independent cartoonist I need to make my own ground rules. One hour is a small amount of time to create content and then it is easy to make mistakes. I need to be careful as no censorship is good but could also put me in danger. In Ukraine I am free and there is no censorship, but you still need to put some boundaries on your principles and ideas to stay safe. Because in Ukraine, all newspapers, websites and magazines have an owner. However, I am lucky that my magazine organisation and I have the same vision of the world so I can express myself and ideas freely without getting in trouble. If I proposed my cartoons to a different magazine in Ukraine, they would not like it and it would not be published due to political differences. So, I am free and happy with my organisation.
DU: Are there any possible negatives sides to being a cartoonist?
VK: I draw cartoons every day, it is not only my job but my hobby. I am very grateful that I can make a living with my hobby. There are no negatives, I am very happy that I am able to do what I love and am passionate about, whilst being able to make money.
DU: Do you believe your work plays a role in the international public debate?
VK: My cartoons are often used internationally because I draw as a free individual and showcase that with my work. I draw cartoons for Courrier International Magazine and these cartoons are also published in France. In Switzerland there is a satirical magazine called Nebelspalter that has published my cartoons. So yes, I am confident my work does play a role in the public debate.
DU: In a world where intolerance is on the rise and cartoonist are being attacked, what are your thoughts on cartoonist on the world stage today?
VK: Firstly, we have to talk about freedom of expression, and I know this is a problem in different parts of the world, as I know many cartoonists that are in prison. Especially, cartoonists in Iran, Turkey, and some other Eastern countries; in Europe this is not the case. This is because in Europe cartoon art has been popular and appreciated for centuries , which gives cartoon art its own place and historical value in society. In Eastern countries cartoons also play a role as art and people do like and enjoy cartoons very much; however, people in power in those countries do not like cartoons because political cartoons criticise power. At the time when Ukraine was part of the Soviet Union, we had the same problems as Eastern countries, because cartoons that reached the former Soviet Union from Western countries were not appreciated by people in power and communist parties, which led to many issues during Soviet times. Underground cartooning organisations were formed due to authoritative figures disliking us. We also made big underground exhibitions, which sent our cartoons to countries in the West that could also start exhibitions, which caused many problems with the KGB. However, now there is more creativity and freedom in Ukraine; Russia however is still very controlled. I have many cartoonist friends in Russia who dislike the politics of the Putin regime; however they are inspired by it. And even their work today is produced underground in Russia. We can meet a Russian cartoonist on the subway in Turkey, in Paris, everywhere, but not in Russia. Even for me, if I were to go to Russia now, I would directly end up in prison because I have drawn cartoons against Putin which have been published in France. So Russian authorities know my work and dislike me as I have challenged Putin; the second I land in Russian airport I will be arrested for my work.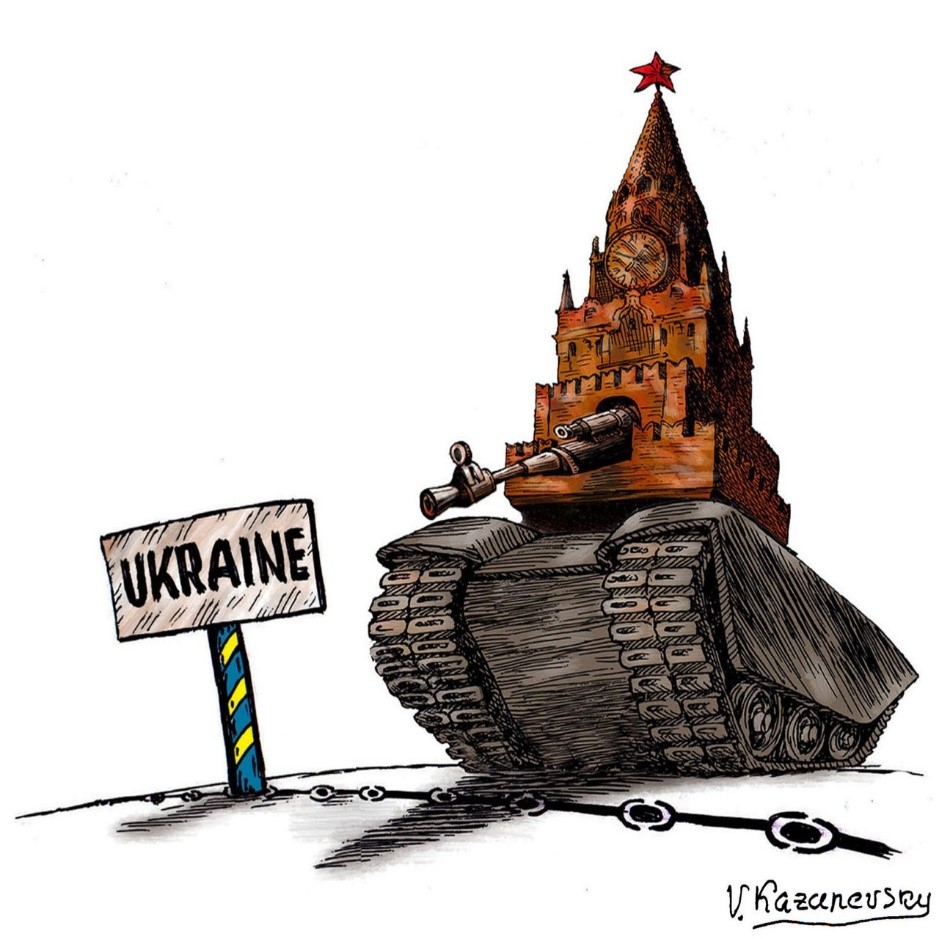 DU: As I look at your cartoons, I notice you rely on animals and nature to convey your messages and tell your stories. Why do you use fauna to illustrate your work?
VK: Animals have always been a good option for a cartoonist. You can utilise animals to symbolise people. In the Soviet time we always used animals to send messages about the Communist party. For example, this work on my wall was produced during Soviet time: it shows a donkey punching itself in the face. I use animals to send messages that we cannot state directly about people in charge; through animals we can show the negative sides of some people.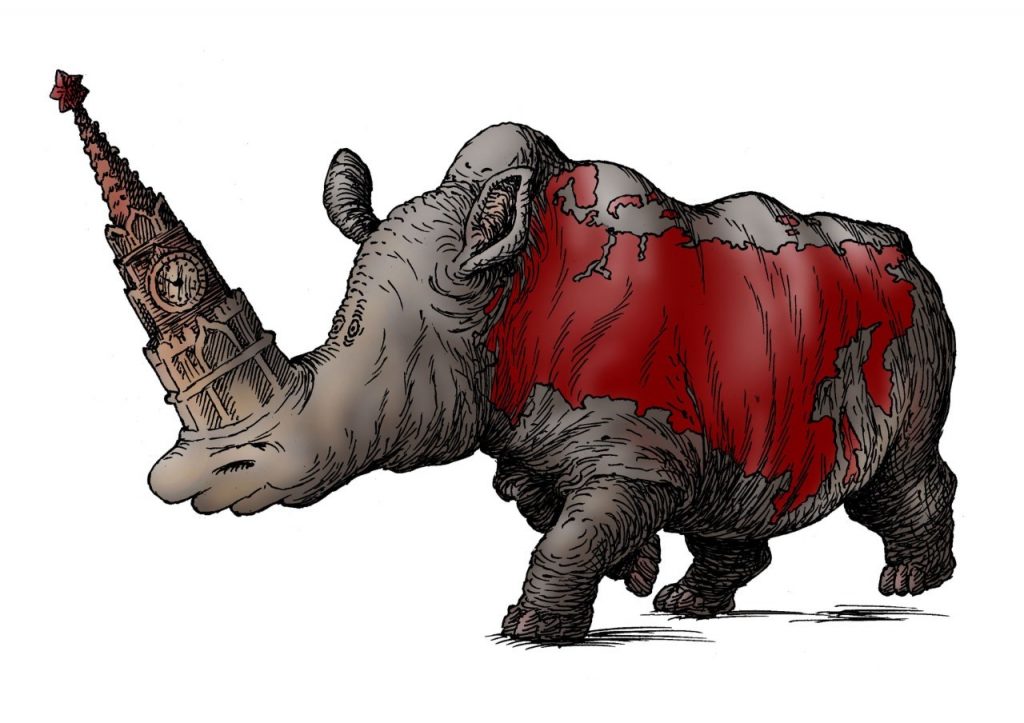 DU: What kinds of humour do you include in your work and to what effect?
VK: There are two types of humour. One is the humour of the body, like for example, in the case of a young child eating a sweet, which will result in a smile, or maybe for instance when getting tickled or after sex: there is always some sort of laughter. But on the other hand, there is also the humour of the mind, which is what I use in my work. There are some theories of humour and I have taken part in a couple of conferences on humour in the USA. Humour often emerges when bringing together two objects that are not interlinked. If I remove the head of a person and turn it into a ball or put a football as a head of a person. That is cartooning, it can represent many things. Two objects that can mean the same thing generate a type of humour that many cartoonists such as myself rely on.
DU: Are there any limits to political cartooning? If so, how do you handle your limits?
VK: There are many limits in cartooning, stemming from my own censorship based on the world views I have. I have my own ethical and aesthetic views, which obviously limit my drawings. For example, some sexual material (not all) is forbidden for me, as well as religious elements. Content on people with physical problems is also forbidden for me, due to ethical views. The other limit to political cartooning would be the censorship by those in power or editors, but I do not like being on that end of censorship. I have my own censorship and I Iimit myself.
DU: How has the pandemic played out politically in Ukraine?
VK: The pandemic changed the world very seriously. Firstly, now I am speaking with you, which is due to the pandemic. Three years ago, before the pandemic began, the connections via internet were nowhere near as strong. Now so much has changed, especially within the sphere of social life. Politics is still the same; stupid people speaking about and trying to do something. The first pandemic obviously prevented physical contact but also united people through the internet and helped form stronger connections. The pandemic had an impact on the social life of Ukraine more than on politics.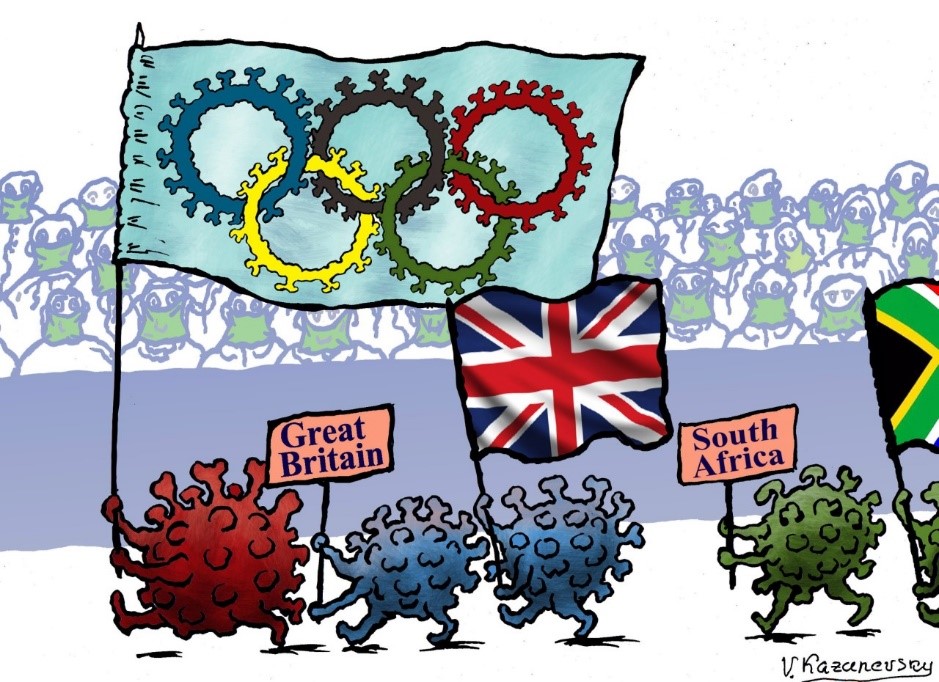 DU: Do you believe cartoons played an important role during the pandemic?
VK: Firstly, cartooning is a so-called art that is made to cause a reaction. News as such is not illustrated by cartoonists, but our thinking and reaction to this event are illustrated by cartoonists. Cartoons could show or tell you something of this event. What can you see? What can you understand? Cartoons, especially during the pandemic, could help you see what the root of this event is. Through cartoons people can understand quickly what is happening, rather than via news and the limitations that come with news.
DU: Do you believe that cartooning has an educational value?
VK: Yes. Firstly, if I have a good idea, I try to present it very quickly with my cartoons and I need to make sure they are funny. Humour is very important because it makes the cartoon memorable for the audience. Cartooning is now often used in education; there are special articles on how to use humour in teaching and ways to use jokes in education. Cartooning does have an educational value as teachers are using new ways of teaching, including humour and jokes, to help educate students through cartoons.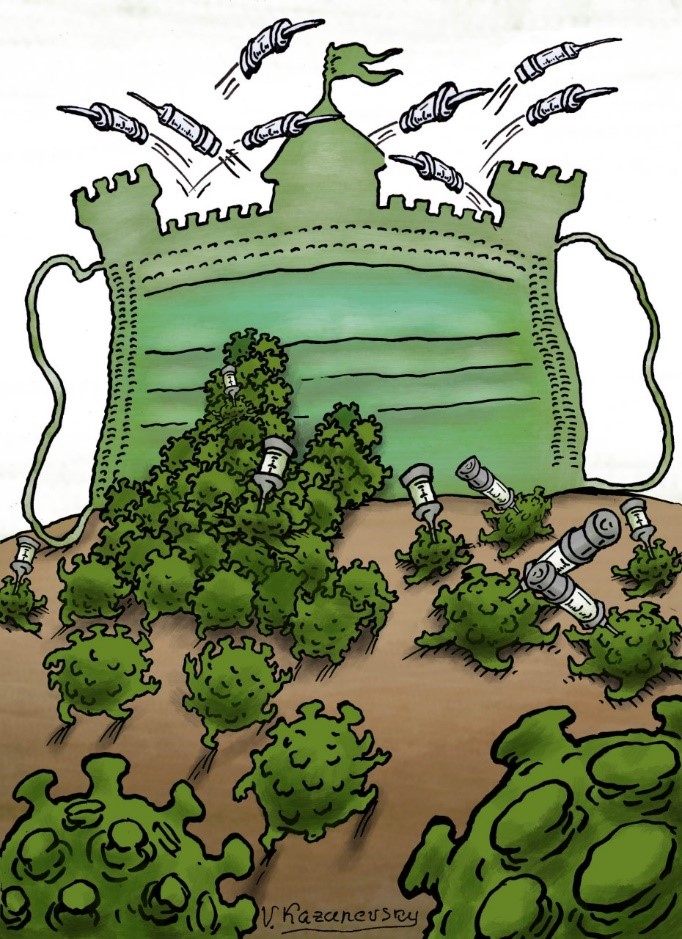 DU: What further efforts can be made to embed cartoons into the younger generations' culture?
VK: Our style of cartooning is not so appealing to younger generations. In order to embed cartoons further within the culture of young poeple I need to change my techniques and make my cartoons accessible by putting them on social media or within their phone reach. You need to think outside of the box and think how we could connect better with younger people.
DU: Do you believe young people are interested in cartooning to express themselves?
VK: Yes, I know some young cartoonists who like cartoons very much. Cartooning is increasing within the younger generation. However, I need to say that I have noticed there are problems in cartooning art within Europe and this is because the cartoonists I see are people around my age, there is a lack of young cartoonists in Europe. However, in Eastern countries like Iran and China there are many young cartoonists. Cartooning is a very important art; there was the very sad case of Charlie Hebdo magazine, where cartoon art has changed within the world's position and society. People understand now that cartoons are a very important weapon.
Interview conducted by Dilan Ucer (University of Leicester student intern) on 5 July 2021, as part of the GCRF-funded and AHRC-funded research on Covid in Cartoons, in collaboration with Cartooning for Peace and Shout Out UK.
---