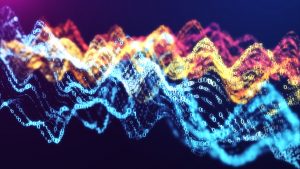 The highly-anticipated opening of the University's new Centre for Artificial Intelligence, Data Analysis and Modelling – known as AIDAM – will be taking place at 3pm on 24 June 2020.
Centre for Artificial Intelligence, Data Analysis and Modelling
The Centre will carry out sustainable research in artificial intelligence (AI), data analytics and modelling; focussing on data-driven AI systems that are resilient, robust, trustworthy and adaptable to changing operational conditions.
The research will develop the new mathematical and computational frameworks and tools that will help design the new generation of AI systems. These can be used in a wide range of applications, including health technology, security, social sciences and space and earth observation.
The Centre currently delivers high impact research, which includes extensive collaboration with industrial partners through five current KTP projects and supporting Space Park Leicester's £13 million METEOR programme. The Centre is also involved in externally funded research projects from departments across the University, including Mathematics, Informatics, Cardiovascular Sciences, and Archaeology and Ancient History.
AIDAM academics
AIDAM is led by:
Professor Alexander Gorban – Director (AI, Data Analytics and Modelling)
Professor Ivan Tyukin – Deputy Director (Provably Resilient, Robust and Trustworthy AI)
Dr Alistair McEwan (Software Engineering and Verification)
Professor Salman Siddiqui
Professor Thomas Yates
Professor Tim Coats (Life Sciences Interface, Res)
Professor Liu Lu (Fault Tolerant AI Systems)
Professor Hartmut Boesch (AI Challenges in Earth Observation)
Dr Phoebe Moore (AI Challenges in Social Sciences)
AIDAM Inauguration event
We welcome anyone interested in our work to join us for the online launch of AIDAM at 3pm on 24 June 2020.
The event features an open lecture on the challenges in AI and data science from Professor David Hand of Imperial College London, a former President of the Royal Statistical Society and a non-executive director of the UK Statistics Authority.
Lecture summary
AI and data science promise to revolutionise our lives, leading to better health, wealth, and wellbeing. But history shows that advanced technologies can blunder, sometimes with catastrophic results. Learning from our mistakes, we need to be alert for ways in which AI and data science can mislead us. What are the characteristics of problems, data, and applications which should encourage us to tread carefully? And what are the risks when we get it wrong?
Professor David Hand
Professor Hand has published 300 scientific papers and 30 books. In 2002 he was awarded the Guy Medal of the Royal Statistical Society, and in 2012 he and his research group won the Credit Collections and Risk Award for Contributions to the Credit Industry. He was awarded the George Box Medal in 2016, and the Research Medal of the International Federation of Classification Societies in 2019. In 2013 he was made OBE for services to research and innovation.
To join our Zoom meeting:
Zoom meeting link
Meeting ID: 859 7571 0420
Password: 440652
One tap mobile
+441314601196,,85975710420# United Kingdom 442030512874,,85975710420#
+United Kingdom
Dial by your location
+44 131 460 1196 United Kingdom
+44 203 051 2874 United Kingdom
+44 203 481 5237 United Kingdom
+44 203 481 5240 United Kingdom
Meeting ID: 859 7571 0420
Find your local number