Once again applications are open for the 2015 versions of Biotechnology YES and Environment YES. These competitions present a wonderful opportunity for PhD researchers and Early Career Researchers to develop key to enhance employability skills for your future career. Participants develop skills in the development and presentation of original ideas that are essential for future development as an employee, entrepreneur or researcher.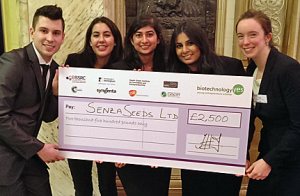 The University of Leicester has entered teams in Biotechnology YES for each of the past four years, culminating in winning the Biotechnology YES 2014 competition outright. The winning team scooped a range of prizes including:
£2,500 cash prize
An invitation to the Biotechnology Industry Association Gala Dinner
An invitation to the BBSRC Innovator of the year awards
A place at the Rice Business Plan competition in Houston, Texas
University of Leicester participants receive support from University staff in their preparation for the YES competitions. Our 2015 entrants will also have the support of the successful 2014 contestants available to them. The first step in this process is a briefing session for all interested University of Leicester PGRs and ECRs, to be held on Thursday May 7th from 1pm to 2pm at the Leicester Learning Institute, 105 Princess Road East.
Biotechnology YES and Environment YES are both wonderful opportunities to develop a range of employability skills. Participation is free to PhD researchers and Early Career Researchers. If you are interested, please do come along on May 7th to find out more. If you have any queries, you can contact me on MGC5@le.ac.uk