I am getting old… The years all look alike. At this stage it looks a lot like this year is starting as the last one began; in lockdown… Looking back at the past year, instead of dwelling on the negatives (obvious though they are), I will only consider the things that make us happy.
The fact the 2021 seemed to end as it began does make thinking back to the beginning slightly easier. We began our year with very carefully starting our photography programme in Leicester. After having jumped through many hoops (I think we are all qualified circus seals now), Victoria and I were classed as essential workers and we got to spend wintery days together on opposite ends of a lab with the windows wide open. Separated by several screens and dressed in masks and as many clothes as possible, it was nevertheless good to work with colleagues again in a non-virtual way. This also meant we got our first taste of the terra sigillata excavated by ULAS. As the year progressed, this material was supplemented with ceramics that were kindly sent down south by the Vindolanda Trust. With the country progressively opening up, and all of us got our jabs, we were also able to welcome volunteers in increasing numbers, which was a great joy. We even had an official intern, which made us feel very distinguished!
The only downside to working with lovely volunteers to photograph ceramic remains is that it leaves precious little time to do all the other work we were also supposed to do. Thankfully, Fiona Seeley and David Griffiths, our wonderful pottery experts, came to our rescue. After minimal training, they were able to supervise volunteers in London and at Vindolanda respectively, giving us time to focus on the backlog of other tasks. I had the good fortune to visit them to deliver the photography equipment, so at least I experienced some of these campaigns and met some of the lovely volunteers who helped us. Upon meeting them, I really wanted to stay and keep working with these wonderful people, but this way we got photographs while we were doing other things! The only thing I regret about the whole situation is that I did not get Fiona and David deputy sheriff's badges to decorate them when we deputised them…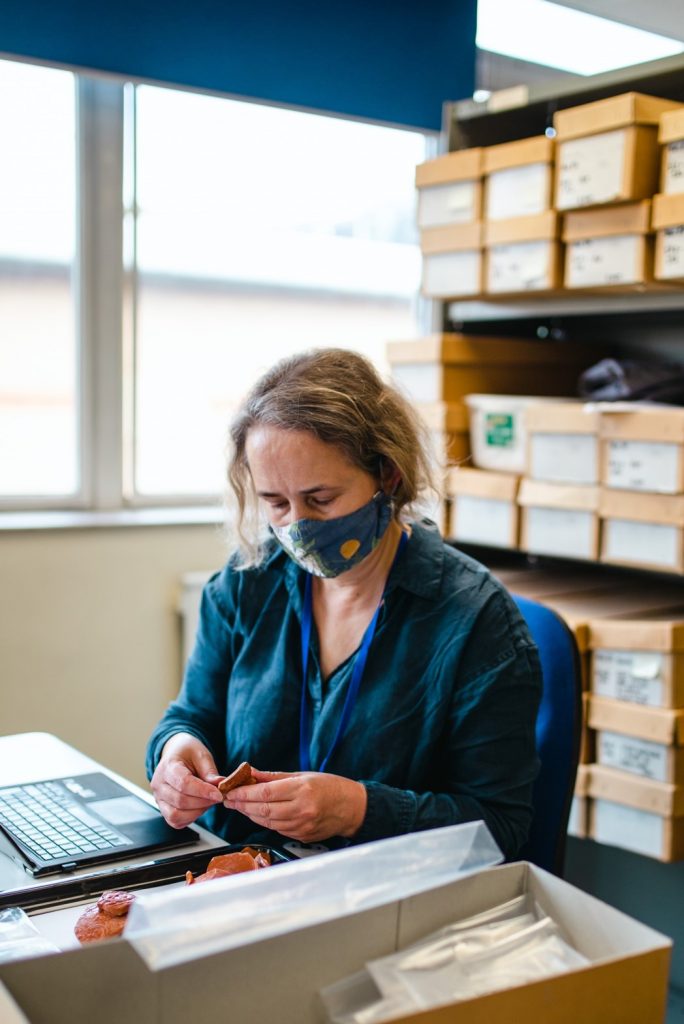 On the Mathematics front, we managed to publish our first project paper. Since the number of photographs we are collecting is, despite our best photography efforts, still small for Machine Learning purposes we are exploring ways of augmenting our dataset. The paper explored simulation as a way of increasing the volume of training data. It is really good to see the fruits of our labour in print (even if others did the bulk of the work). Our newer mathematical work also (again, the Maths team are doing the heavy lifting) continues apace, so hopefully we will have more publications in the new year. Who knows, maybe we'll even manage some archaeology focussed ones…
Some results are more fleeting than publications (though with recorded lectures, (presentations take on a new permanence…). As always, I have spent more of my year talking than writing, but the Arch-I-Scan project has been prolifically talking as well. Collectively, we have delivered thirteen talks in which the project's work plays a role. Ranging from talking to distance learning students of archaeology visiting Leicester, or Australian school students, to papers in China and distinguished lectures in the USA, we covered the spectrum of audiences as well as half the globe geographically! Shockingly in this year, some of them were even delivered in person, such as our participation in the national Being Human festival.
Here's hoping that 2022 is as good as 2021 looked when only looking at the positives!