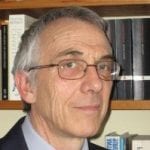 Mark Pluciennik died on 7 May at the age of 62, following a battle with a progressive neurological condition. Mark joined the School of Archaeology and Ancient History in 2003 and was the second Director of Distance Learning in Archaeology and Ancient History at Leicester, retiring in 2011. He subsequently held the title of University Fellow.
Dr Richard Thomas, Head of the School of Archaeology and Ancient History, said: "Mark was a scholar of international repute and a fantastic colleague, central to the development of our distance learning programmes. I remember Mark as erudite, principled and quick-witted. It was under his leadership that the scope of our programme greatly expanded and the Distance Learning BA Archaeology degree came to fruition. We all owe him an immense debt for his strong commitment to distance learning and widening participation in archaeology and his energy and persistence in making sure things happened. Our thought are with his partner, Sarah Tarlow and their family: he will be sorely missed."
A memorial will take place at Leicester Guildhall on the afternoon of Thursday 26th May to remember Mark's life and character. Please arrive between 2.30 and 3.00 for the ceremony to begin at 3.00. Drinks and snacks will be served afterwards in the Mayor's Parlour at the Guildhall.
Please leave your memories and messages of condolences in the comments.