Warning of the Dangers at Caerwent!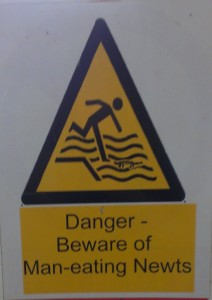 What I did done so far….
19th February…Met with Debbie for the first time after interview…Natalie (the girlfriend with the patience of a saint) came with me…Sat in on David Carthy (Primary school teacher), Laura Massey (Intern with University Schools and Colleges Services) and Deborah Frearson's (who coordinates "Dig It" after school archaeology club) talk on archaeology and education…quite interesting…need to not be so awkward with new people.
26th February …Susie McGraw and Jen Drapans talk on the Sir John Moore foundation…sounds like a good thing…using archaeology  to work with excluded pupils …was introduced to  undergraduates Alex and Anna and started coming up with some ideas for the Higher Education Academy funding "Classics in schools"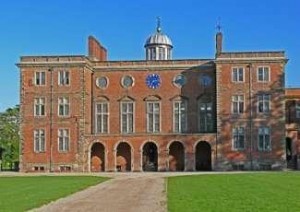 Sir John Moore Foundation
28th February…. Met with Alex and Anna to come up with ideas for the sessions…Alex turned up late but we sorted out who was doing what…Anna doing death and burial, Alex doing transport, me – curse tablets and we will all do a temple building activity.
4th March… Sent email address to Prof. Simon James so I could get Operation Nightingale info…slow day…need to stop sitting at home playing Xbox…. "Yes!" (Debbie)
5th March…. Paul Blinkhorn's talk on "Archaeology in the media", as eccentric as always and seemed a bit miffed (understatement) that his "pub dig" show was cancelled…went for coffee and chat with Paul, Mike and Debbie about community archaeology….. Also went to talk to Tim Higgins at ULAS to get information about curse tablets (he was very helpful).
 Paul Blinkhorn and Rory McGrath on "Pub Dig"
7th March….. Met with Anna and Alex and came up with the final ideas for the sessions…..they both seemed to have a good grasp on what they were doing…Anna's far too organised…it's a bit scary!
13th March…. Went to a meeting with Debbie and Mike about Richard III for Leicester City Primary and Secondary School heads with the Richard III team and Dr Sarah Scott…just sat in the corner hoping not to be noticed!
14th March…went to one of the "Melton Fieldworker's presents" talks at Melton Museum…interesting talk on a Roman shrine at Egleton, Rutland given by Tim Upson-Smith from Northamptonshire Archaeology…need to remember jacket when I go out…bloody freezing!
20th March… Met with Anna and Alex…..Alex was late again but he had come up with a clever idea to make his transport activity a game…so he redeemed himself there.

                          Alex's great idea for the game…Everyone loves toys….No?…Just me then…
21st March… Kibworth High School outreach visit…I did the bit about archaeological recording….Mike helped a lot as I'm still being a bit awkward around people.
4th April…. Visited the MOD site at Caerwent (near Chepstow, South East Wales) It was to see the Operation Nightingale project- using archaeology to rehabilitate injured soldiers http://www2.le.ac.uk/news/blog/2013/april/archaeologists-and-soldiers-unite-for-ground-breaking-project  …Sgt Diarmaid Walshe  showed us (me, Debbie and Mike) around the deserted medieval little hamlets, the possible Iron Age Hillfort and around the base…need to get some new jeans when I get paid….windy as hell and colder than the arctic! "Especially when your jeans have gaping holes in the knees" (Debbie)
Caerwent! DMV's and Roman building….
5th April… Got my offer letter and copy of contract…finally… even if it was just the pdf version…..legs hurting from all the walking and windiness of Caerwent…I REALLY need to stop sitting around playing Xbox….I swear I was never this out of shape when I was digging…how long has it been since I last picked up a mattock?…Getting a bit nervous about Monday now…
8th April…. Started the placement!!…was shown around the department and campus….saw Leicester from the top of Attenborough tower…good view and Debbie pointed out all the buildings and what they were ….met far too many people at once….got my swipe card…didn't work!…got key to Drawing Office…did work!…started designing HEA project….got a phone for my desk as well….nice….probably never going to ring.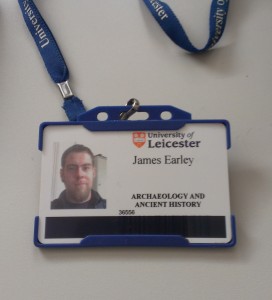 The all important swipe card….wish it had a better picture though
 9th April… Card started working….Carried on working on presentation and went to meeting with Debbie, Mike, Catherine  Hallsworth from the City Council and Charlotte Barrett…found out about all the City Council festivals and open days that Leicester has…also they kept mentioning places I had never heard of….Mike recommended we go for a tour of Leicester!
10th April… Continued  working on presentation…not used to so much sitting around at a computer….need to start drinking more coffee so I don't fall asleep…met one of the academic staff I hadn't met before…strange person…nice enough…. but strange all the same…made me miss my train…
11th April…Debbie and Mike took me for a tour of Leicester…the city has loads of places I didn't even know existed (Jewry Wall Museum, the Castle, Magazine,  Guildhall etc.) visited John Thomas on site…nice site with a few skele's…bit jealous. ….Wanted to jump in and help hoik them out (technical term) …saw Michael Portillo on new walk…filming for yet another train series (aren't we all so excited about that prospect!) … decorated wall above my desk and stole some speakers….
Jewry Wall and The Magazine….two of the highlights of Leicester
12th April… Met with Anna and Alex to go over what we had all prepared…gave Alex my Graffiti presentation as he rightly pointed out that the transport game might get him lynched by the excluded pupils….finalized temple idea as I had hit a brick wall…surprisingly it actually worked….hopefully it does anyway….changed the scheduling for the Monday as Susie was going to bring a willow weaver (old man willow?) with her…going to have 4 groups going round now.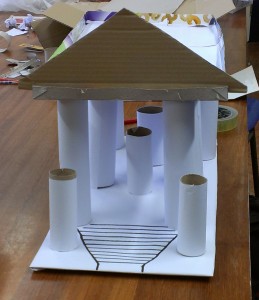 The temple ideas start to come together
15th April…First session  (excluded pupils)…went fairly well… they liked the colourful cards for the curse tablets which was surprising…they seemed to enjoy the day but obviously didn't show it…got nice feedback such as "s**t" and "depressing"…little darlings…
16th April…..Second session (first primary school)…..went  really well…the temple building was a success but need to work on organisation…had to improvise to make sure they all had something to do…need to improve my presentation skills…too stiff and boring at the minute….. Most likely starting to get on Mike's nerves by now….he probably misses having the office to himself!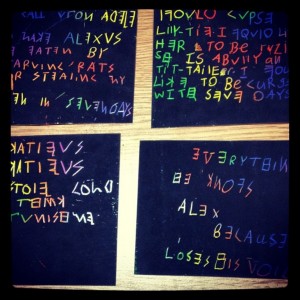 One of the curse tablets
17th April….Last session (second primary school)…did my curse tablet presentation for the first group then asked if Mike would deliver the other two so I could watch Anna and Alex's talks….met with Dr Sarah Scott and two PhD students to discuss website ideas for outreach…collapsed in heap from exhaustion…dealing with children is more tiring than a day of digging… researching what archaeology unit websites have regarding outreach…. also photo copied newspaper clippings regarding Richard III…Met with Richard Buckley to discuss a school visit on Monday 22nd April- using persuasive writing for Richard III project
 The finished temple and one of the school childrens "Goddess of Animals"
18th April…Went to Richard III meeting…not sure what I made of it really…. Then went for coffee with Jean Baxter, Head of University Schools and Colleges Services ….carried on researching what unit websites have regarding outreach…found that another CBA placement has done a blog…. Thought it might be a good idea to do one myself….. (What? It's not copying…its finding inspiration!)
19th April….. I started writing the draft of this blog…had to do quite a few corrections (thank you Debbie)….Met up with John Thomas of ULAS to discuss what needs to be done before The Burrough Hill Research and Fieldwork Training Project….turns out quite a lot!….
22nd April….. Got my University computer and email account (hooray!! People can contact me!!)….and John has asked me to redo a resource pack for teachers and pupils on Burrough Hill and the Iron Age….so started doing that….this is going to take a while….also "borrowed" a plastic skeleton off Debbie….I named him Gerald….no idea why…the name just seems to suit him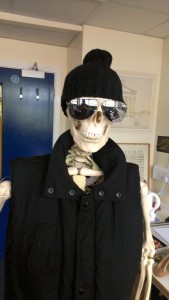 Gerald!!….yes, I get bored easily and he looked cold
23rd April…..Carried on with the resource pack all day…..
24th April…. Carried on with the resource pack all day and John has asked me to create two posters….one on  hillforts in Leicestershire and a 2012 results one for Burrough Hill, so I sent an email off to the HER officer at Leicestershire County Council for information on hillforts in the county
25th April….. Took down the Richard III newspaper cuttings in the foyer to make room for information notices for the students when they return (oh gawd…I forgot this place is usually overrun with students) then I carried on with the resource pack for the rest of the day (are you starting to detect a theme?)
26th April…. Went with Jean Baxter (Head of University Schools and Colleges Services, in case you had forgotten) to sit in on her talk at a teachers conference and hopefully get to talk to the head teacher of Keyham Lodge, which is a school for pupils who have "statements for emotional and behavioural difficulties" seeing as I came under that category at school I would quite like to work with that group. They didn't turn up……went to the lunch afterwards…very awkward to sit with a table full of people I didn't know but the food was nice…..veggie curry!!
29th April…..Yep you guessed it…. Carried on with the resource pack for most of the day with a short break in between to go and get tools ready for building a roman road at Queensmead academy with David Carthy's after school archaeology club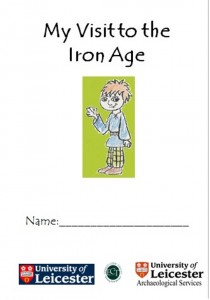 The activity book for Burrough Hill….don't worry…the final version looks better
30th April…. Carried on with blah blah blah….then went to Queensmead to start digging the area the roman road is going to go…..shouldn't have dug anything….shoulder hurts now (well…more than it did already…stupid boy James!!!)
1st May – 3rd May….. Carried on with the resource pack and on the Friday left early…went to Bruges….as you do
7th May– 17th May…. Back from Bruges. Right I'm not going to bore you with too many details of what happened between these dates. By now I am sure you can work out what I did…… I worked on the resources for Burrough Hill and came up with an activity booklet for the school groups for when they come up on site tours.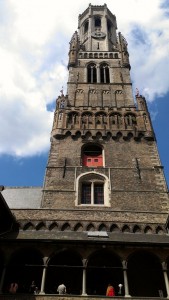 Nothing much happened this week so here is a picture of Bruges
20th May….Today I had my start up meeting with Tara-Jane Sutcliffe from the CBA and Helen and Wendy from the County Council….found out what I will be doing in August when I go work there…..we all talked a lot about my favourite subject…ME!!!
21st May….Was supposed to be doing a joint project with Genetics on Richard III but the schools cancelled so I helped sort out the presentations for it and did some final adjustments to the resources…FINISHED THEM!!!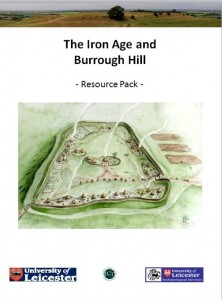 Front page of the Resource pack
22nd May….The school didn't cancel today so we did the Richard III presentation…Anna and I did bones and we had Andy Hyam from ULAS in his full armour…went well…even with a camera crew filming it all… said goodbye to Debbie and Mike as they  are off to Greece (lucky buggers)…left early to go to wedding…should really write my best man speech..
Sir Andy Hyam in his full armoured glory and Debbie doing her media bit
29th May….That was a nice long weekend….wedding went well…Debbie and Mike still in Greece…jealous….hmmm…I need stuff to do…..running out of tasks
30th May…Got this blog up to date….picked up posters for Burrough….started getting the Burrough blog up and running and begged for help off  Giacomo for writing the website…did some last minute adjustments to the activity booklet….
31st May….Went with Wendy to see the collections building for the county council…..massive warehouse with lots of interesting stuff and a very creepy room full of costumes! …. Then went off to Snibston to see the treasure exhibition…lots of gold!!!! Shiny shiny! Very well set up and laid out….highlights the treasure act which regrettably a lot of metal detector enthusiasts are unaware of.  http://www.legislation.gov.uk/ukpga/1996/24/contents
3rd June…..Debbie and Mike back today……lucky blighters are so tanned……went for a coffee and a catch up with them…..sounds like they had a good time though which is nice….still jealous however….
4th June – 6th June…..sorted out all the odds and ends before I go off to play around in the mud and sun at Burrough Hill…..but Burrough Hill is another story………………